So you bought a green screen (hopefully a Webaround), ready to add insane amounts of production value to your videos and streams. You get it home, set it up, and then….well you don't know.
Does the camera just automatically take out the green? Does your software allow for the green screen to work? How do you become the next Dr. DisRespect?! One of the largest obstacles that any creator faces when they first use a green screen is how to get the settings right. How do you make sure that you are crystal clear, while the background is completely cut out? It's actually a lot more simple than you think.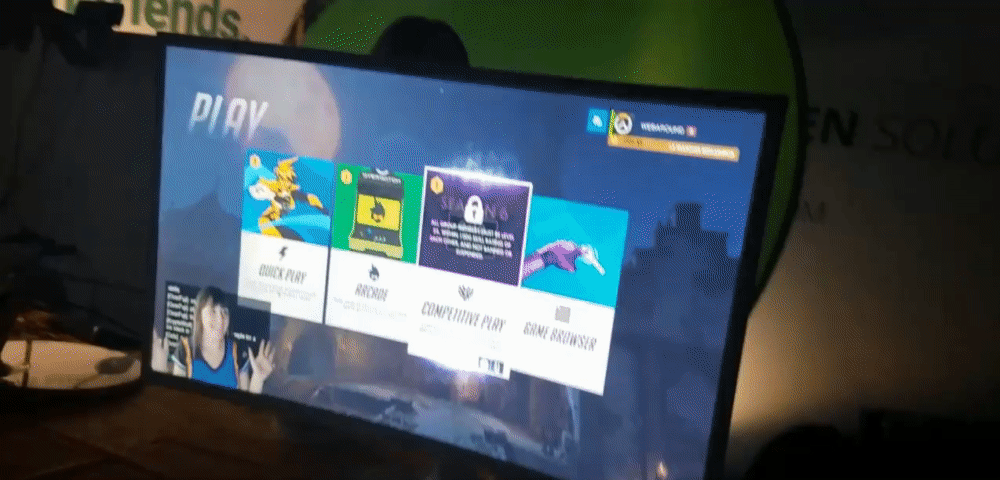 How Green Screens Work with Software?
To start, you need to understand how green screens work with software. Think of the green screen as a car. The car itself lets you do a lot of awesome things like driving, traveling, showing off your horsepower at a redlight, you know…car things. However, to do all of these great things with your car, you need gas. For a green screen, the chroma key is the gas.
Without it, you'll have a nice green background on your camera, instead of a cool image or gameplay. Chroma key (aka chromakeying) is a technique within your software in which a block of a particular color, usually green or blue, can be replaced with another color, image, or video. It's like how the weatherman is able to show up in front of your state and report the weather.
Some popular programs that have chroma keying available within them are:
Open Broadcast Software (OBS)
Xsplit Gamecaster
Streamlabs OBS (SLOBS)
Many people get to the chroma key step and end up dropping the green screen from their setup. Why?
---
THE SETTINGS DIFFER FROM PERSON TO PERSON
This isn't rocket science, but you also can't use someone's chroma key settings and think that you are all set. Everyone's environments are different, from the amount of light that comes in a window, to the objects that are in their room. All of these things affect the chroma key. Your window may let in a lot of light, but your dresser may cast a shadow right where your green screen is. These are factors that will need to be accounted for during the final set up. Thankfully, most programs make it really easy to get going, while also giving you the options to adjust manually.
Let's look at OBS. This is a free piece of software that is highly customizable and provides a ton of value to you as a creator. They have a Chroma Key filter built into the actual software (To learn how to apply the chroma key filter in OBS, click here). All you need to do is apply the filter to your camera and it will provide a starting point to chroma keying within its filter settings.
You then have the ability to adjust the settings by dragging the bar or by getting super specific by number. Most programs are exactly like this and give the user a baseline chroma key that they can adjust right after.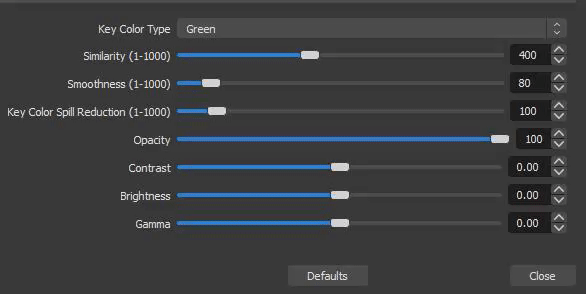 So what can you do to ensure that the chroma key is as even as possible after applying the filter? Well there's really two major items that you need to consider: Lighting and Shadows.
Chroma Keying lighting options
In the ideal situation, you will evenly light the green screen so the color is the same across the board. You can then set the chroma key color in your software to the exact color and it will instantly work. Life isn't so simple and we aren't working with multi-million dollar studios here.
For a general setup, we recommend two lights that are angled at 45° from the subject, which gives you a pretty good lighting coverage over the green screen. The closer you can get the colors on the green screen to match, the better off you will be.
Shadows cause more problems than you think
Shadows are the killer of an even chroma key. They offset colors and make it harder for the software to get the right color, eventually leading to spotty keying, which leaves a stuttering effect. It just looks bad. Don't be that person.
If you use a Webaround Green Screen, you don't need to worry about this because all Webarounds use spring-steel to pull the material taut. You'll never have to worry about shadows or an uneven surface.
However, for a large green screen setup, you need to make sure that it's pulled as even as possible across the entire apparatus. Having even a single corner not pulled taut can cause major shadows across the entire screen. If its impossible to get out, you'll need use light to eliminate that and it can get a little crazy.
---
With just a little bit of tweaking and research on your preferred program, you can easily add a green screen unit into your setup, giving you unlimited possibilities for your videos and streams. We put together some great examples of how to set up the Webaround Green Screen with all of the major content creation software out there.
While different in some aspects, the instructions can be used for any green screen and should only take about 5 minutes of work to get a great chroma key. You can check out these videos here. If you have any questions regarding chroma keying your Webaround, feel free to reach out to us in the comment section or through our contact form. And as always, GLHF!