For years, stream services have generated loyalty programs that reward viewers for watching and taking certain actions. Loyalty systems are great because it engages the community and rewards them for being active. If you set up your actions correctly, your viewers can help drive fun moments and consequences simply by being active. It makes your stream more fun and filled with random, hilarious events.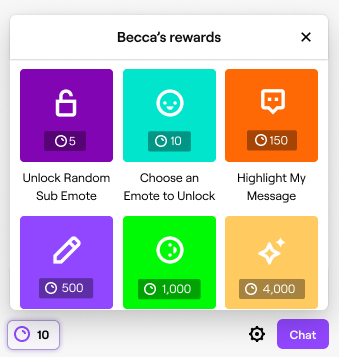 Until recently, you had to use systems like StreamLabs to run a loyalty program. However, back in 2019, Twitch launched their own integrated channel points system for all Twitch Affiliates and Partners. This system does everything that the third party services do, but it's integrated fully into Twitch. Meaning you can get points for subscribing, following, gifting subs, donating bits, and other actions that live on Twitch specifically. The best part of the integration is that it's located right in the chat window for the viewer to check on and right on the dashboard for the streamer. It's never been easier to use!
Unfortunately, a lot of streamers are under-utilizing or not even using this powerful feature to engage their audience. This is a HUGE mistake if your goal is to create a community. The benefits, especially if you are a Twitch streamer, far outweigh the time you might spend on putting it together. So to kick start you in the right direction, we put together four best uses of the Twitch channel point system that you can integrate right now. Let's jump into it!
Challenges
Challenges are a great way to get your audience involved. Games like Hyper Scape are seeing a lot of viewers because of their Twitch integration. Players are able to vote on challenges or changes during a match and whatever wins gets added into the game in real time. If you play a game that can get repetitive like Call of Duty, Fortnite, or Apex Legends, look into adding some challenges as a loyalty action. Viewers can turn in channel points and give you a disadvantage for a time. Some examples of this are:
Play with one hand for 2 minutes
Change the sensitivity to the highest possible on controller for the entire match
Use a specific weapon or class and get a positive K/D ratio
Viewer chooses the hero or character you have to play
This is great because it gets the viewers invested and involved. But it also keeps them engaged, which leads to them sticking around. The more people that you can keep watching and adding to the stream, the better. The higher the concurrent number of viewers, the higher you rank on the game page. Take a look at adding challenges if this describes your gameplay!
Giveaway Entries
If you use giveaways to bring viewers in, this is a great way to reward them for their time. Twitch doesn't track giveaway entries or anything like that, but if you feel confident you can keep track (or have your mods do it), this rewards viewers for sticking around and watching. By setting a high channel point cost, you know the loyal viewers will be able to afford additional entries, which gives them a better chance of winning. This also gives incentive to new viewers to stick around and start gathering points because they know you run giveaways and make it a point to allow for additional entries.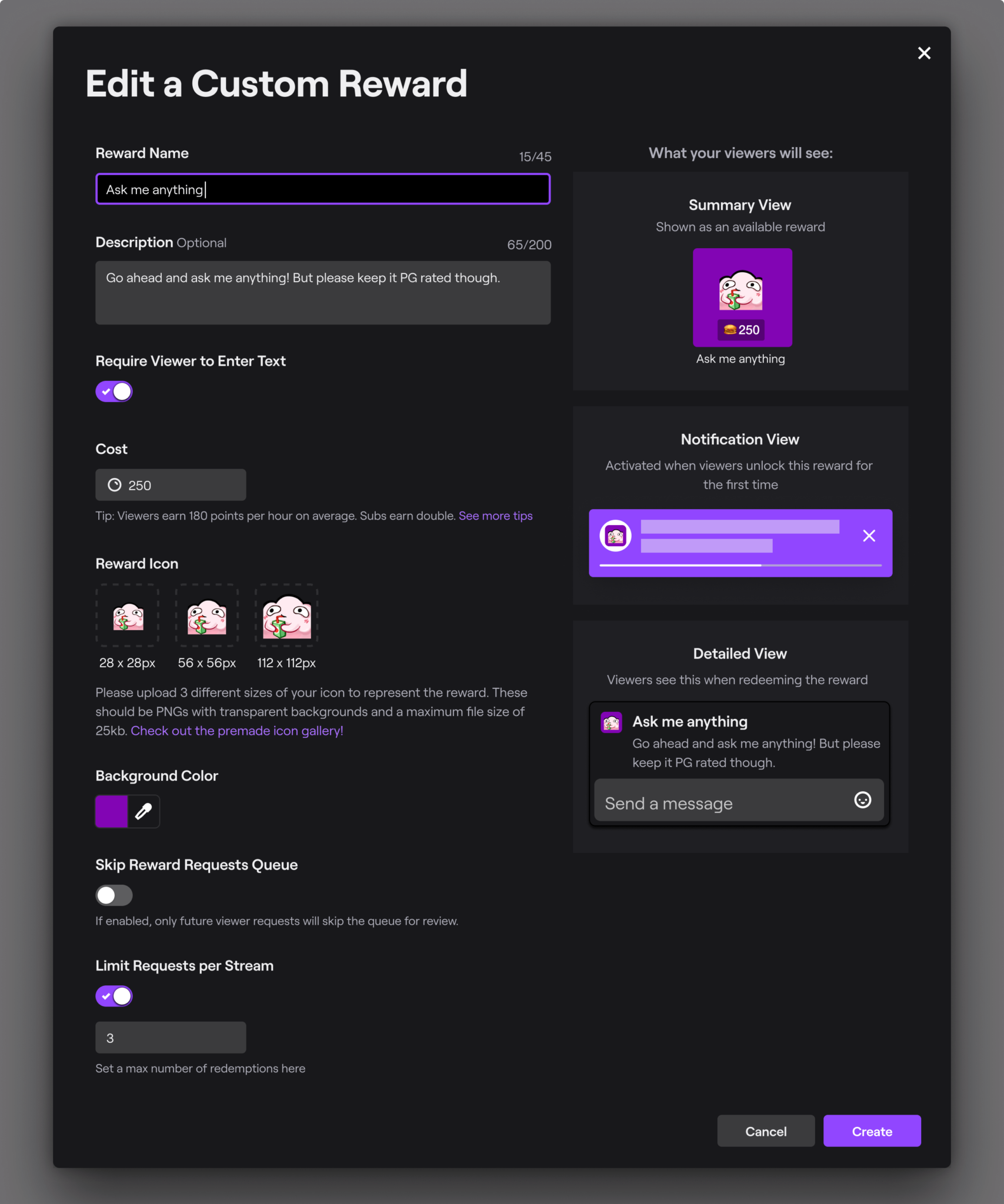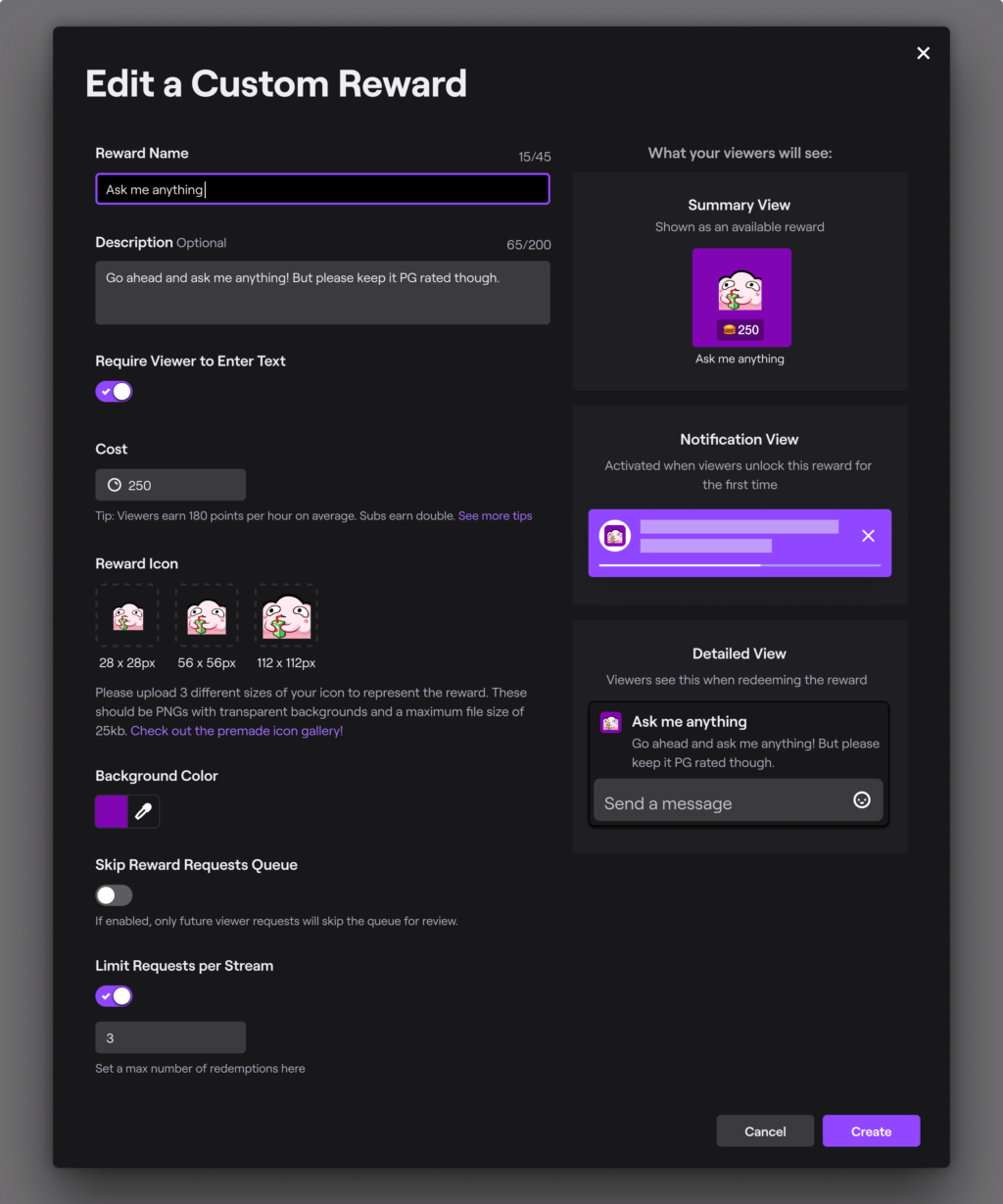 Buy a spot on the squad
If you are focused on community building, nothing brings a viewer in more like being able to play with their favorite streamer. You can set an incentive to be a spot on your team for a couple games. The viewer can redeem their points, play with you, and it costs them nothing but time watching you anyway. This is great for two reasons:
1) You are driving users to watch your stream more to get points
2) You are drawing people in by allowing them to play with you

Your viewers want to engage and do things with you, so it will create a loyal community if you allow them to join in on the fun. Plus, running solo is almost always terrible in team based games. Bring in the viewers!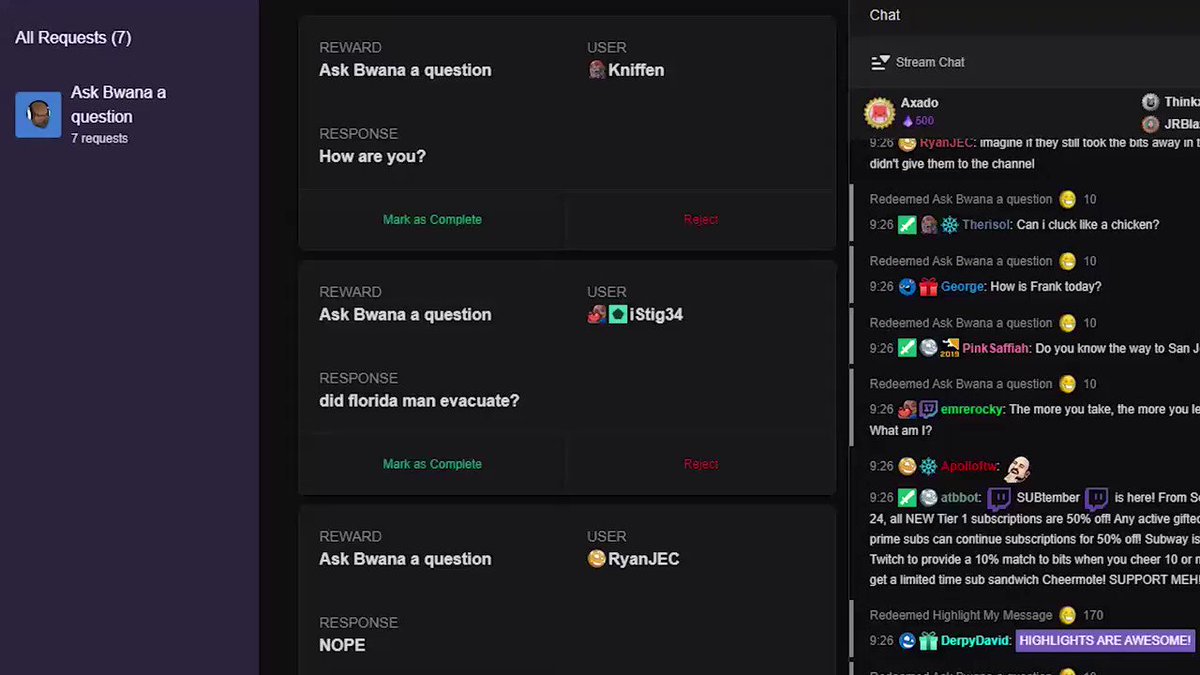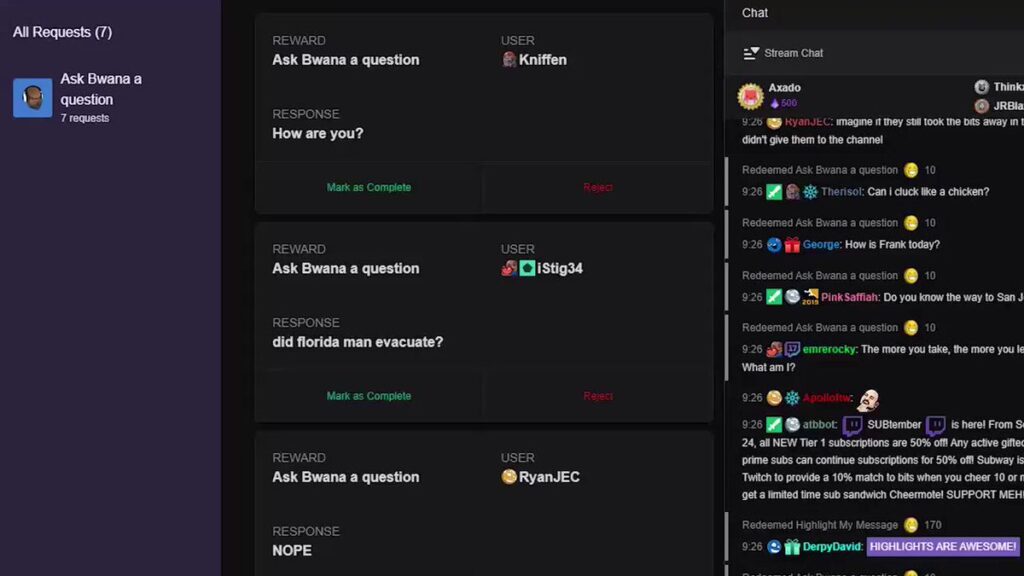 Choose your Game
If you are a variety streamer, this is an easy way to get your community involved. We know that picking games to play can be a challenge (we even made a series here to give you game ideas each month!). So if you have an expansive library of games or are willing to pick up some new titles, leaving the game choice in the hands of the community isn't bad. In fact, you can make an event of it where there is a bid-off on what game you play next. Individuals can redeem their channel points in exchange for an entry into the game they want you to play. At the end of the stream, you tally the entries and pick a winner. Then, the next stream you can play that game.

This is engaging because the viewers drive the content and will almost 100% come back to watch that game being played. This helps with concurrent viewers and chat engagement. On top of that, you also take the job of finding games to play completely out of the picture. People like Sodapoppin have done a great job of using this technique to drive viewer engagement. He has a list of games that he plays on every Saturday that are community picks. He plays until he doesn't want to anymore and then goes onto the next one.
---
There are so many uses for channel points that you can easily add into your stream. You should take a moment to look into the feature and see if you can use it to create a more engaging environment for your viewers. What may seem like a small feature in its own right, the benefits that it can provide to any stream are well worth the effort you put into it. Not only will you see viewership and concurrent viewers increase over time, but it can become an integral part of the way your channel interacts with viewers. If you have other uses for the Twitch channel point system, let us know and we'll add it to the list!
As always, keep on creating and GLHF!