Over the last couple months, you or someone you know has probably seen a hate raid on Twitch. Or even worse, you might have had to deal with one yourself.
Hate raids are vile attacks against members, where an individual uses hundreds of bot accounts to spam a Twitch channel. Most of the time, the hate raids are targeted at marginalized streamers, focusing on spamming bigotry and racial slurs during a livestream. Sometimes, these individuals will target offline streamers in an attempt to get them banned for not keeping their chat clean at all times. Yep, that's a requirement by the way.
So how do you combat hate raids? We put together some information and tools to get started and make sure you are protected.
Use A Stream Controller
One of the easiest ways to not only protect yourself from a hate raid, but also improve your stream quality, is implementing a stream controller into your setup. We talked in depth about which stream controller is best in a previous article if you want a more detailed look.
A stream controller allows you to assign actions to buttons, like turning on lights or starting a stream. However, you can go even further with multi-action buttons. These allow for multiple actions like starting a stream, switching to a scene in OBS, and then turning your camera on after the timer is finished, all with one click.
For hate raids, having a dedicated button to clear chat, disable alerts, and mark where the hate raid started will let you take back control of your stream as quickly as possible
One of the unfortunate things about Twitch is that people will be rude, regardless if they come from a hate raid or not. So having a dedicated button with a stream controller will also help in those circumstances where you need to clear chat and take control of alerts from a pesky viewer.
Turn your chat to emote only
As we mentioned above, it is the creator's job to ensure that a channel is free of hate speech. This includes whether you are offline or online.
One way to combat hate raid issues while you are offline is to set your chat to emote-only mode. This will make it so that chat is, well, emote only. To do this, navigate to your chat and type "/emoteonly".
You can also create a command with Nightbot or Streamlabs Chat Bot so that when you type something like "!emoteonly", it will change it to emote only mode for you. You can then automate this with your stream controller to run once you click the button to turn off your stream.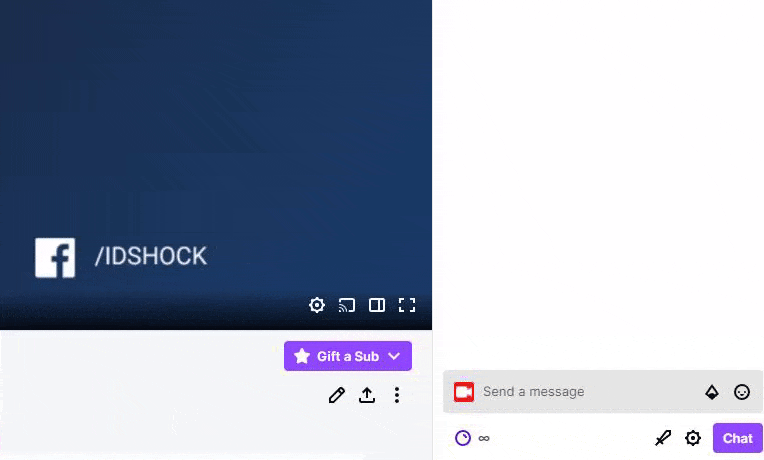 Use Twitch's Moderation Tools
One little known feature that many streamers miss is that Twitch offers moderation tools. Here is how you access them:
Log into your Twitch account
Go to dashboard.twitch.tv
On the left sidebar, click on Settings, a dropdown menu will appear
Select Moderation
In this section, you have a multitude of tools at your disposal.
AutoMod
AutoMod is great for creators who are just starting out and may not have a moderation team in place yet. You can adjust AutoMod based on levels 1-4, where it will filter different items like aggression, bullying, slurs, and more. The higher the level, the more moderation.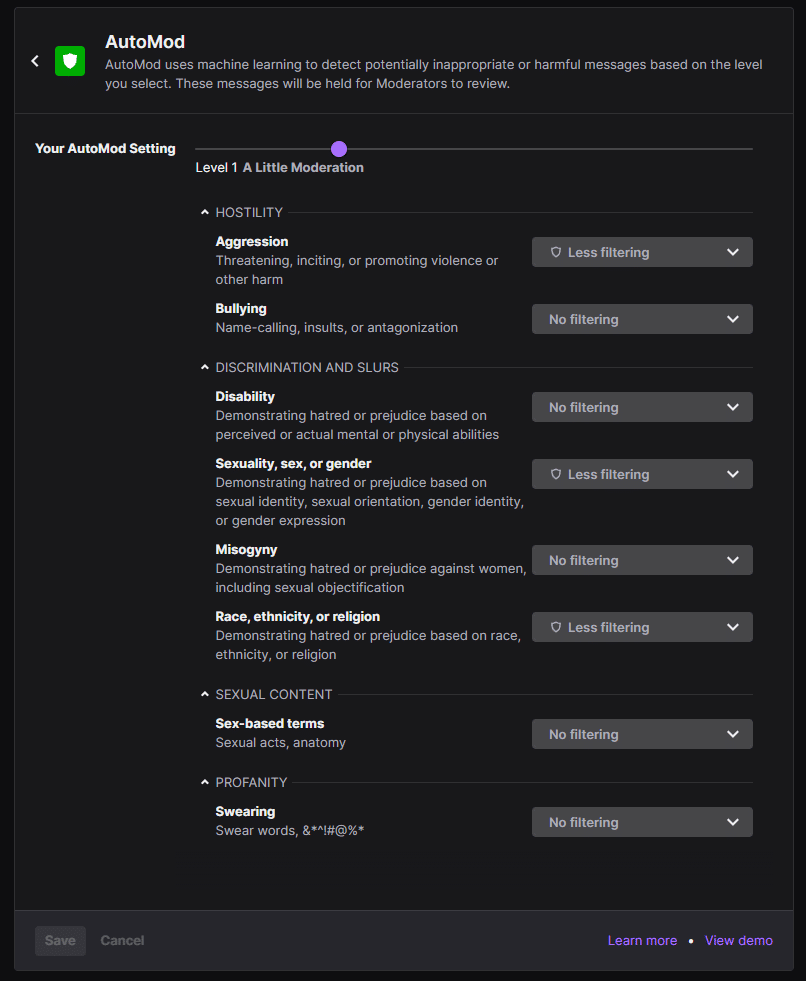 Channel Privileges
Channel Privileges require any chatter to have verified their account before being able to chat in a channel. Previously, this only included email verification, but in a recent blog article, a Twitch spokesperson has confirmed they added the phone verification option as well.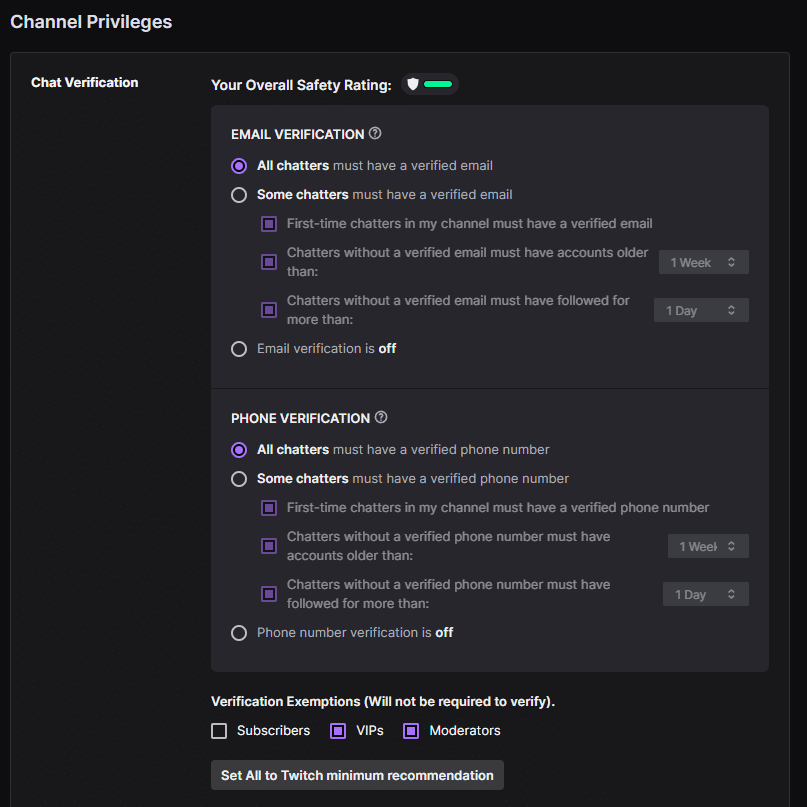 This is helpful because many of the attacks and tools used requires hundreds of bot accounts. The individuals behind these attacks would mass create accounts and then send them along. By limiting them to email and phone verification, those bot accounts will no longer work, for now.
While each account will not have to have a verified email and phone tied to it, there are ways around this with services that provide free phone numbers.
We recommend turning both verification methods on for the most protection.
---
While its great that Twitch is doing a lot to combat hate raids, it's on the creator to truly lock down their channel. Having the correct tools to combat hate raids is the best way to ensure you aren't negatively affected by it.
Using a stream controller like Touch Portal or the Stream Deck will help you make automation buttons that can clear chat and lock down alerts swiftly. As well, using tools like Twitch's Moderation dashboard will help you protect your channel when you aren't available. Finally, use chat commands like "/emoteonly" when you go offline so you aren't attacked when you aren't available.
Have you experienced a hate raid? Have other tips on how to prevent them? Let us know in the comments down below!
Stay safe out there, keep on creating, and GLHF!