If someone would've told me that spending $500 for an audio interface would be part of my plan for the end of 2020, I'd have laughed in your face. I love content creation, but spending that much money on one piece of equipment seems like a waste. All of that changed when I got my hands on the TC-Helicon GoXLR.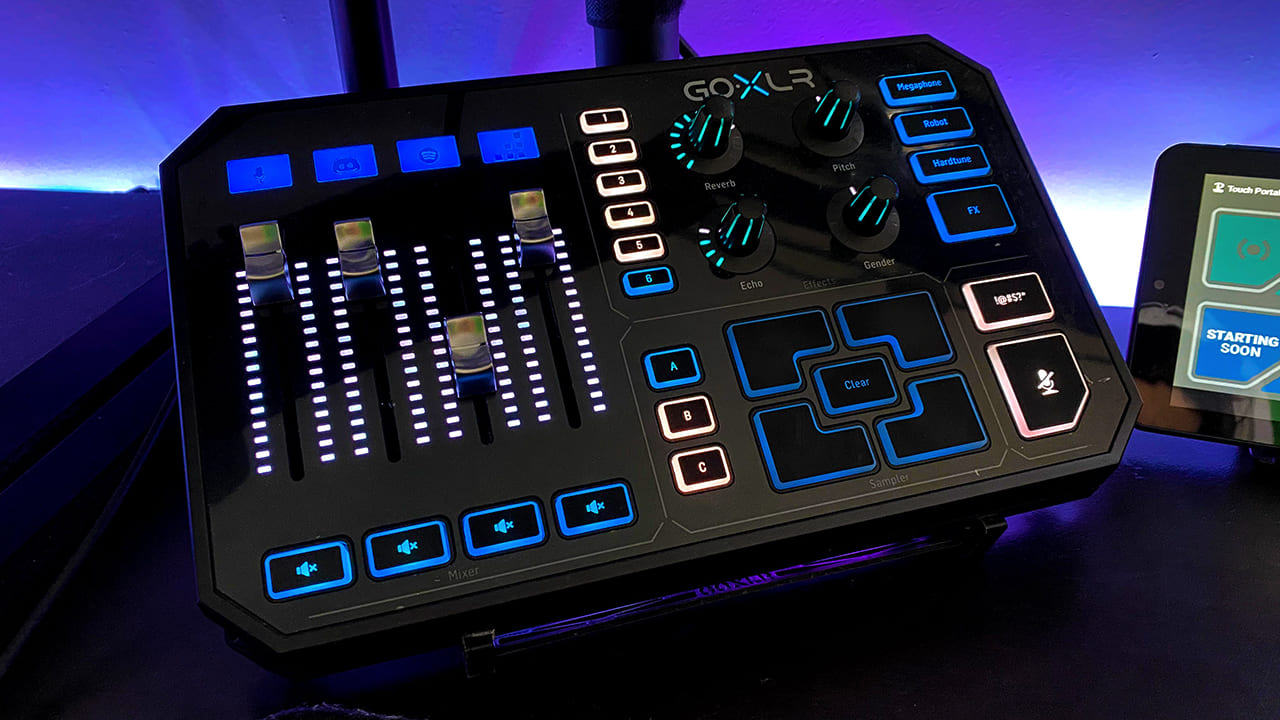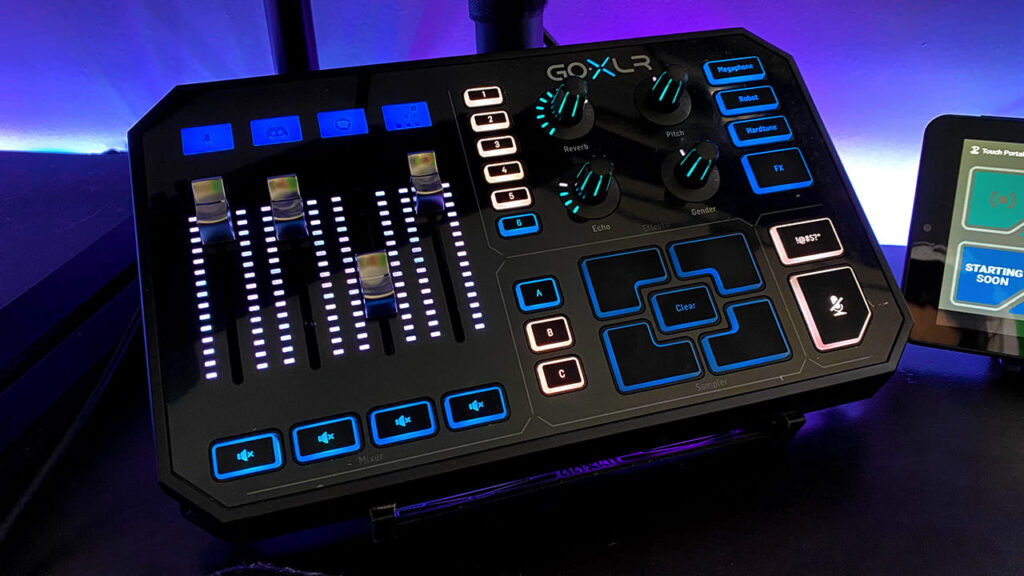 The GoXLR is simple in theory. It is an audio mixer, sampler, and voice FX machine for content creators. It works with XLR, Dynamic, Condenser, 3.5mm, and USB audio microphones. All of these features of the GoXLR are built into a nicely laid out setup that allows for on-the-spot, dynamic changing of your voice, sound levels, pitch, reverb, and so much more.
What's really cool about the GoXLR is that all of the audio mixing is done through the GoXLR interface, so you never have to mess with OBS levels again. It makes tweaking audio an absolute breeze.
A lot of individuals may be turned off by the high price of this device. Trust me, I was right there with you. Paying $500 for a piece of stream equipment can be a bit of a shock, but what you get from it truly makes the unit worthwhile in the long run.
If you are a dual PC streamer, you can utilize the GoXLR's Line Input and Line Output feature to run your audio correctly for the dual PC setup. This makes it a very versatile piece of equipment for those that want to simplify that setup.
The GoXLR was made by the company, TC-Helicon, who are audio professionals in the music space. They started out creating products to make singers sound better. They took all of their findings and applied it to content creators, so you know that you are getting a quality interface from people who understand audio inside and out.
Features are Key
What sets the GoXLR apart from the competition is its impressive feature set for an audio interface. On the GoXLR board itself, you can dynamically change 4 audio sources with the motorized faders (motors are not available on the GoXLR Mini). Four faders may seem like a small amount of adjustment, but this is just the four sources that you set. All of your audio sources including your chat, microphone, game, console, system, samples, and more can all be adjusted in the GoXLR App.
We recommend that you use the four faders for audio sources you use the most during the broadcast. For us, it was our microphone, Discord, Spotify, and Game volume. On this section, you also have four mute buttons that can cancel all sound and when its unmuted, it goes back to where your faders were.
But really, the star of the show is the fact that faders move on their own! It's so much fun to watch!
If you are all about having fun with your content, you'll love the voice effects that the GoXLR has. You can dynamically change things like your gender, pitch, reverb, and echo right from the GoXLR board. Best part is that you can save all of these configurations.
There are 6 buttons for saving different audio settings for voice effects so you never have to tweak and remember your settings if you find something you love! You can also add other effects to your normal voice like a robot sound effect, megaphone, or the T-Pain autotune. The possibilities are endless!
Finally, we have one of the most fun and most 'annoying' features of the GoXLR, the sampler. Ever wanted to annoy your friends with meme sound clips or even their own voice played back over and over and over? You can do that with this section. There are 4 buttons and 3 profiles (so total of 12 sound effects you can save) to load with sound clips and even recordings of you or your friends.
You can use the GoXLR App to trim recordings or move them to whatever buttons you want. On this panel is also a toggle mute button for your microphone, in case you sneeze or cough. And if you ever wanted a bleeper for expletives, there is also a swear beep button that plays over your microphone. Family friendly features across the board!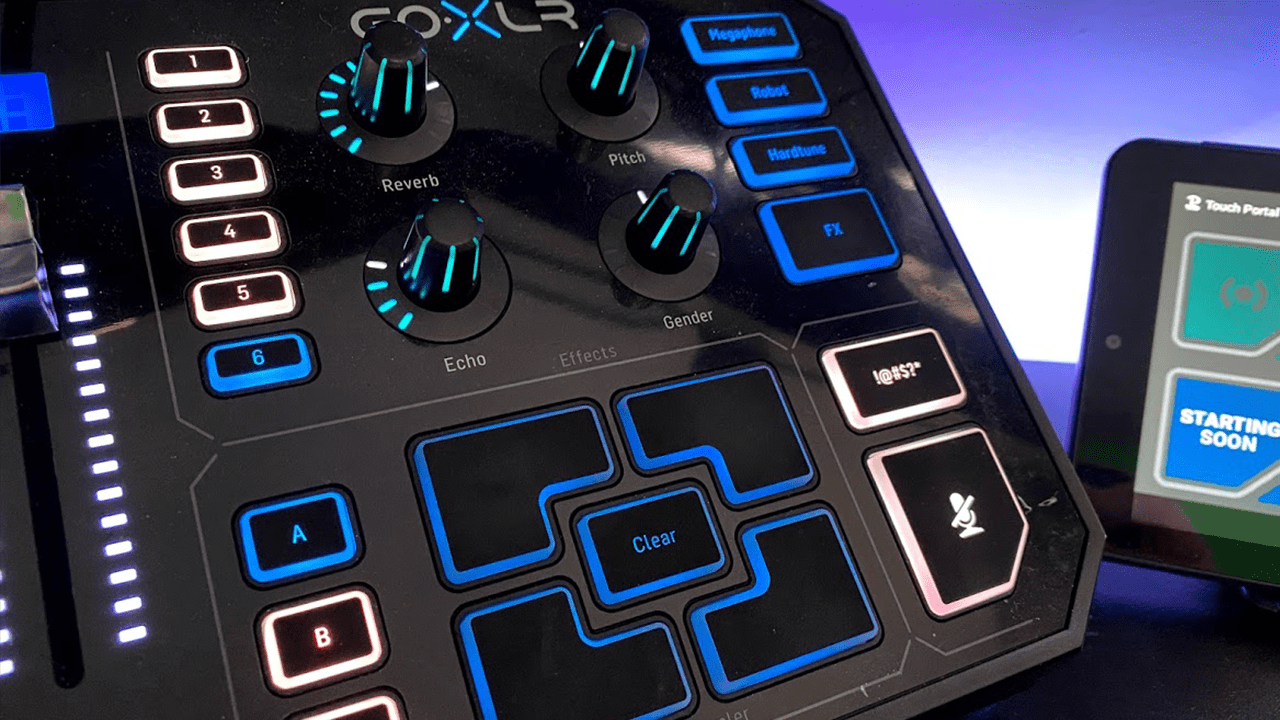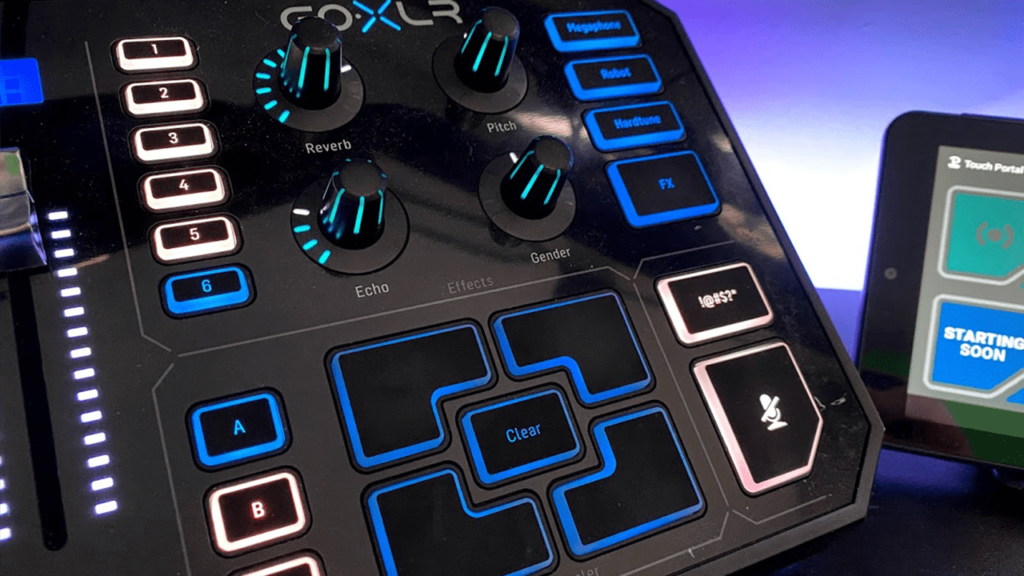 Setup is a Breeze
Unlike your traditional mixer boards, with a lot of dials that you might have no idea what they do, the GoXLR streamlines this entire process. Just plug in all of the audio sources (i.e. Line Inputs, 3.5mm TRS, Headphones, Microphone, etc.) to your GoXLR, open the GoXLR App, and you are already 50% done!
The other 50% is just adjusting the settings to your needs! The GoXLR App is a little confusing, but all of the functionality of the GoXLR is able to be easily adjusted. We created a more in-depth guide on how to use the GoXLR App to clear up any confusion.
TC Helicon created a very simple "Mic Setup" area to get your microphone configured and working with the GoXLR correctly.
As all of your audio sources will be running through the GoXLR now, you can use the Mixer to set the volume for all of the audio sources. Here, you can also set the four channels that appear on the motorized faders section. All you have to do is click on the channel and then click on the source for that channel.
For Channel 1, I have microphone selected, but you could have console, system, game, whatever you want! You can also adjust what the mute button does when clicked. If you want it to mute to all sources, just select "Mute All". But you can also set it to just mute to stream, or mute to voice chat, etc.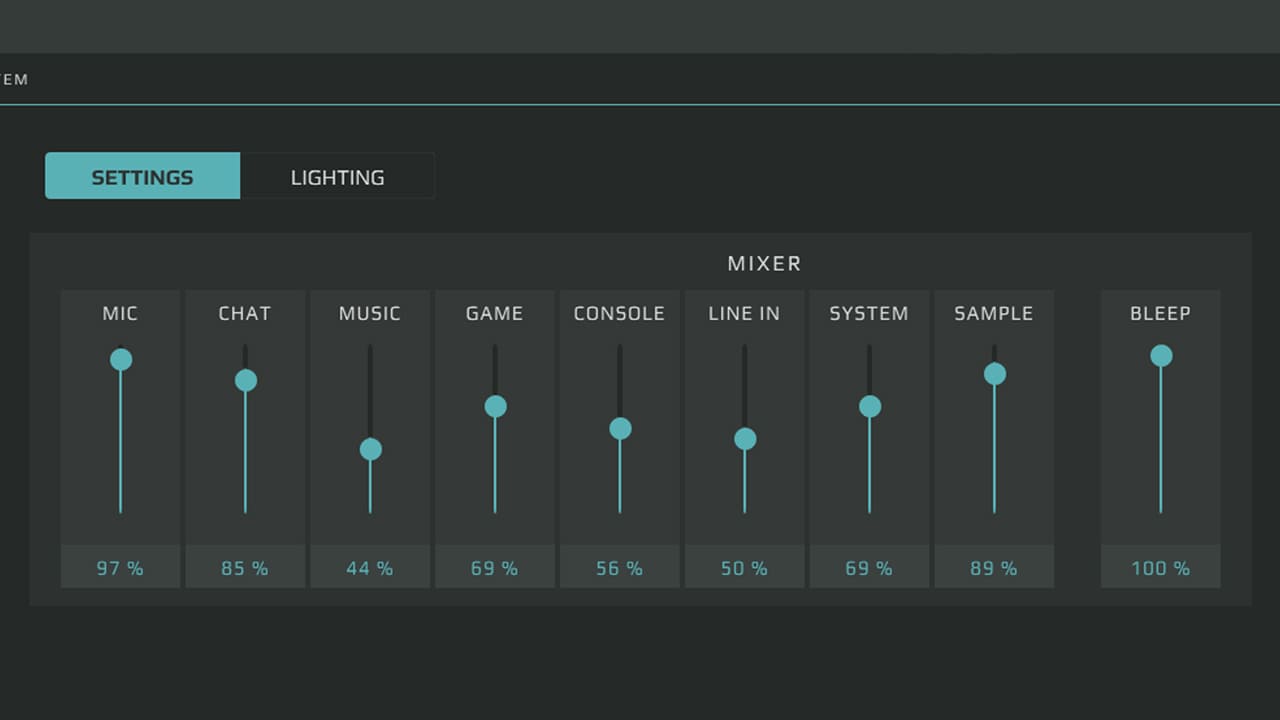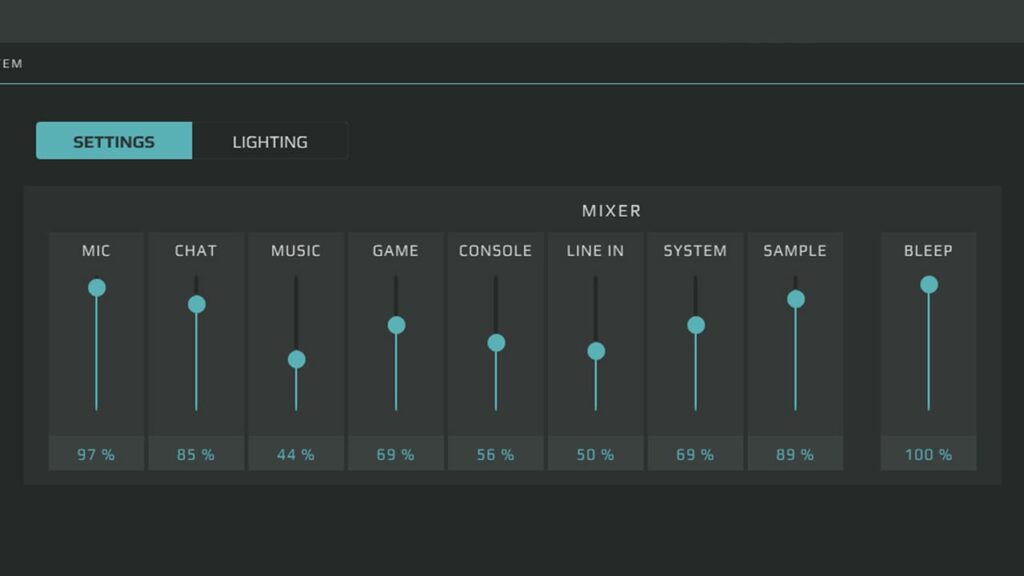 The Effects section allows you to adjust the reverb, echo, pitch, and gender for each of your Voice FX profiles. They have some preset options, as well as dials to tweak to your hearts content!.


The Sampler section is where you store all of the audio clips that you want to use. Here you can assign them to a specific button, a whole bank, and how the button works. You can have the audio clip stop playing when you release the button, or just play through with just a tap.
Sometimes, you are adding a full song to the sample and only want one part of the song. You can do that with the Sampler Waveform. You can drag the left and right sides of the waveform to the spot you want and the sampler will only play that portion.


The final setting area is the Routing section. This is a very powerful and cool tool. Essentially, you can pick what inputs will be played within certain outputs.
So for example, if you wanted to listen to music that might give you a DMCA strike (We don't recommend that! Check out our DMCA Free Music You Can Use on Twitch Guide), you can uncheck the Music Input to the Broadcast Stream Mix Output.
You can then listen to whatever music you want and your stream won't hear a single beat of the song. Likewise, if you want your stream to hear your Discord conversation, you can check the Chat Input to go through the Broadcast Stream Mix. The routing area is very powerful and provides a lot of functionality for the creator.


Making Your Good Mic sound Great
While the color customization, sampler, and voice effects are nice, the real reason that you should look at GoXLR is for its ability to get the absolute best quality out of almost any microphone. The GoXLR was built with a studio quality MIDAS preamp which provides a clean and crisp sound to whatever microphone you use.
The GoXLR app made it pretty simple and intuitive to use this preamp with your microphone and get it set up correctly. All you have to do is boot up the GoXLR App and click on Mic Setup. Select if you have a Dynamic, Condenser (+48V) or a 3.5mm microphone, adjust the gain levels next to the mic meter until your voice consistently falls in the "Good" area and you are all set! The unit takes care of the rest of the work.
If you need phantom power for your mic, it turns it on automatically. If you don't, its off.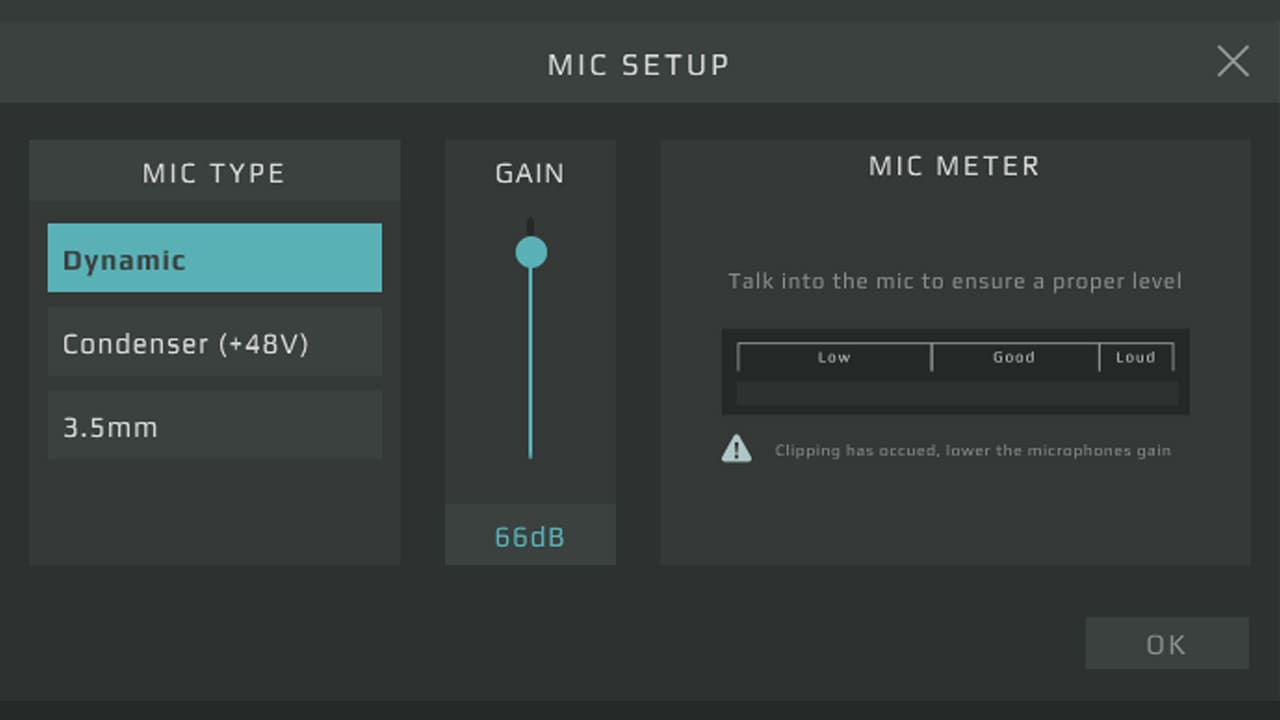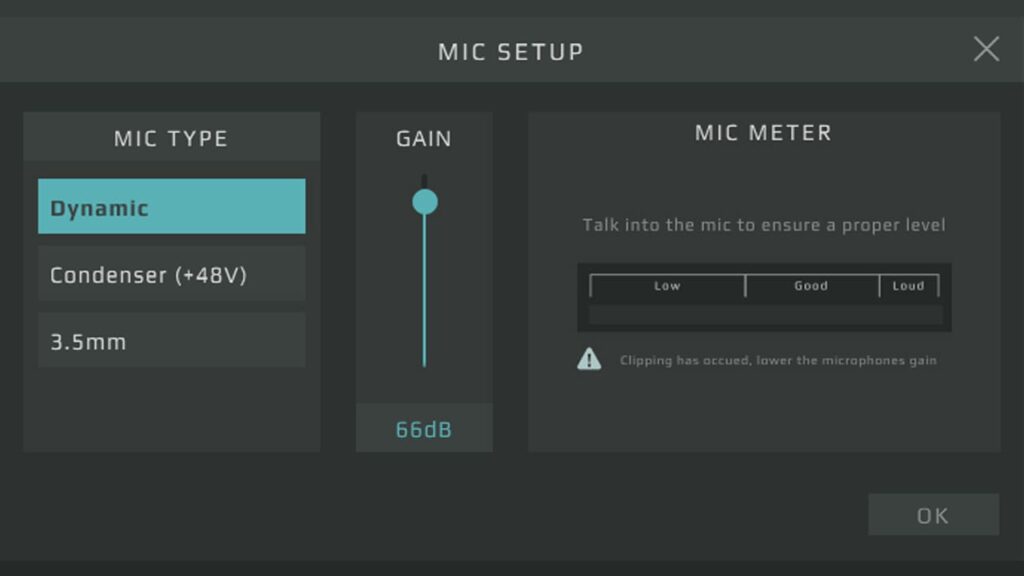 Once you've done the initial setup, you can then tweak your Noise Gates, Equalizer, Compressor, and even De-Esser (which smooths out the "S" sound most people make and that microphones hate. The level of customization can be as simple or advanced as you want. Each of the sections (Gate, Equalizer, Compressor) has a bar that can be dragged up or down as you want.
On the other hand, if you want more customization, you can click the right arrow icon on each to open up its own additional settings area where you can dive further into the customization of what you want your mic to sound like.


For example, you can just set your gate to a number that works, or you can open the advanced settings and change the Gate Threshold, the Attenuation, Attack, and Release. It truly allows you to maximize the sound and quality of your microphone across the board.
Final Thoughts
The GoXLR is an expensive piece of equipment, but with audio being one of the largest parts to a good stream or video, you can't go wrong investing in it eventually. You can definitely get away with a traditional mixer or audio interface, but you lose the streamlined setup and additional features that really make the GoXLR stand out among the crowd.
If you are a new creator, maybe hold out for now unless you have the funds. But if you are looking to bring your content to the next level, don't let the price tag fool you with the TC-Helicon GoXLR or GoXLR Mini. It's definitely worth the investment.
–
DISCLAIMER: While this article is not sponsored, there are links included in this article that may be affiliate links. If you purchase a product or service with the links that we provide we may receive a small commission. There is no additional charge to you! Thank you for supporting our blog so we can continue to provide you with free content!