As a streamer, your stream management is everything. Not only is it where you place your stream controller for easy clicking, but even as simple as where your chat and activity feed windows are on your screen. You need to make sure that you have a space for OBS, your chat window, your activity feed, the game you are playing. Yeah, it can be a lot.
All of these pieces play a critical role in providing an interactive stream to your audience. But with so many windows open, it can get overwhelming on where to place all of them so it isn't a cluttered mess. What if I told you that you there is a plug-in that cleans up everything AND lives right in OBS?
Enter OBS.Live from StreamElements.
What is OBS.Live?
OBS.Live is a free OBS Studio plug-in that provides a suite of amazing features to make stream management a breeze. The biggest benefit of OBS.Live is that it integrates with Twitch, YouTube, or Facebook Gaming chat right into OBS. It has no delays and operates exactly like a pop out window would from your browser. Your chat, activity feed, and stream controls all seamlessly integrate right into OBS' console so you only need one window to run everything!
If you use StreamElements for your overlays, you can also replay, skip and mute alerts at the push of a button. It gives you more control over when your alerts go off. This is perfect for when you don't want to be interrupted while talking or when you are at a part in a game that you don't want alerts to go off.
StreamElements also made sure that the plug-in works with any system. It is optimized for OBS so it has very little CPU usage overall. This is a huge benefit because multiple tabs in Chrome can drag a good system down with excess CPU and memory usage.
How do you use OBS.Live?
Getting started with OBS.Live is super easy!
Head to StreamElements' OBS.Live website and download the plug-in.
Install the plug-in.
Open OBS Studio.
Log into your StreamElements account or your preferred streaming platform.
Once installed and opened, you'll see that OBS now has the Activity Feed and Chat as an OBS Dock!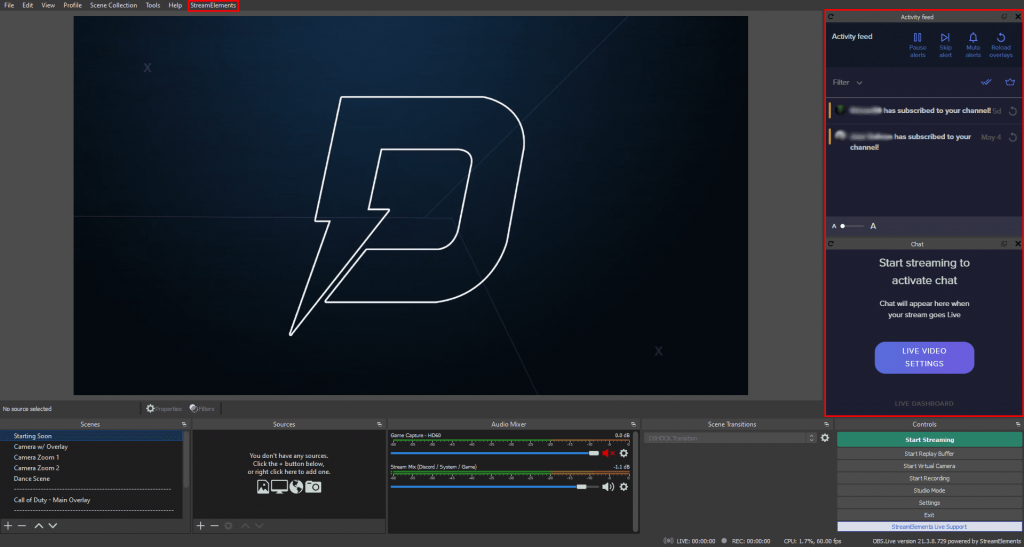 If you navigate to the top, there is also a "StreamElements" tab now that allows you to adjust settings. You now have quick access to your overlays, bot settings, tipping page, cloud backups and more. It's that simple! When you go live next, the Activity Feed and Chat will begin populating and you are ready to go!
OBS.Live Tips and Tricks
OBS.Live is very simple in concept, but it has a lot of cool hidden features and things that make it even more powerful. We put together some quick tips and tricks to expand OBS.Live's functionality tenfold!
If you use a Stream Deck, there is actually a free Stream Deck Action that is available for OBS.Live!

This action provides an easy way to quickly toggle alerts on and off, mute alerts, and adds general stream controls right on the Stream Deck.


You don't have to use all the StreamElement OBS.Live Docks.

If you prefer to still use a separate chat window, you can toggle on and off any of the docks. Just go to the StreamElements tab at the top and hover over OBS.Live Docks to uncheck or check the docks you want.

There is live support for OBS.Live through the StreamElements Discord.

If you are having issues with OBS.Live, don't email StreamElements. Instead, join their Discord and get instant access to support from their staff or community members!

StreamElements has a bot that can have a custom name by using OBS.Live.

If you utilize StreamElements' bot for chat moderation and commands, you can customize the bot name by using OBS.Live! Our friends at StreamScheme put together an awesome guide to how to change the StreamElements bot name if that interests you.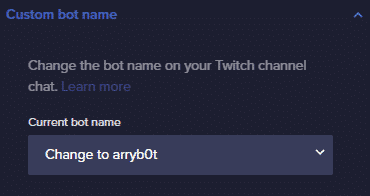 ---
StreamElements continually adds awesome tools like OBS.Live that make streaming better. Adding OBS.Live into OBS Studio adds a ton of functionality to OBS, but also helps declutter your screens and make it easier to engage with your audience. OBS.Live also has a lot of other cool features like custom bot names and Stream Deck Actions to make it even more powerful. Stay tuned for more about OBS.Live!
If there are other tools that you use as a creator, make sure to let us know down below! We might add it as a new tool in our next post!
Thank you for reading, keep on creating, and GLHF!