We live in a digital world. For many, work now takes place online rather than in an office. That's why it's great to see new technology arise that helps workers with video conferencing. Mmhmm is just that. It's a powerful virtual camera app that connects with all of your favorite video call services. According to them, "Mmhmm helps you be better on video, whether you're presenting during a video meeting or recording content you want to share asynchronously."
What can mmhmm do?
Get a Room
Mmhmm has a wide array of virtual backgrounds which they refer to as "rooms". By choosing a room, you can change your virtual location and personalize your video. As shown in the image below, the room function also does a great job of hiding distractions that may appear in the background of your call.
Say It with Slides
One of the coolest features of mmhmm, in my opinion, is the ability to add slides to your video stream. Not only can you add slides, but you can also share your screen and videos as well.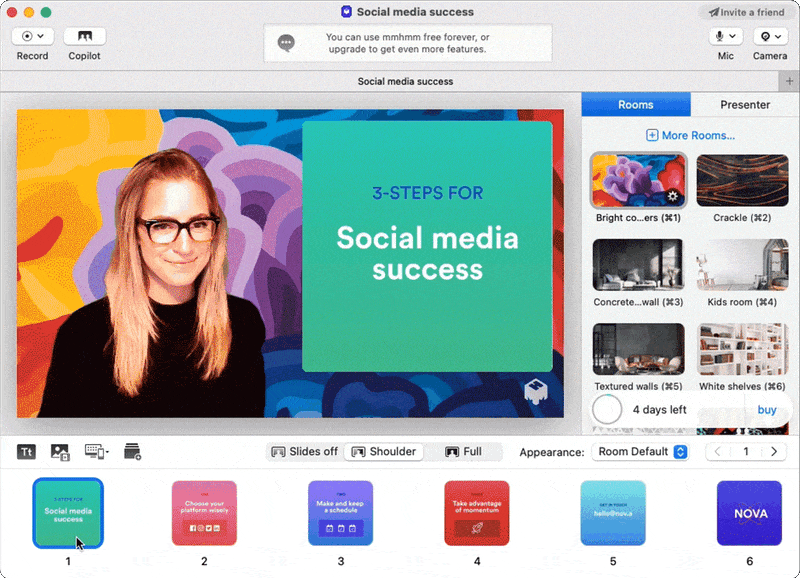 Effects that Wow
If you've read our Snap Camera articles, you know we love filters and effects. Mmhmm has a variety of color overlays and filters that you can add to your video to really take your stage presence to the next level.
Record, Save, and Share
Sometimes, it's nice to be able to record a call. Mmhmm takes it one step further. Mmhmm allows you to prerecord mp4's to share however you please. But, there is more, you can also share interactive presentations! Interactive presentations allow you to separate your video recording into different sections. Using the slides I mentioned above, you can create beautiful cover slides to highlight your main points. This video from mmhmm, explaining their creative name, is a great illustration of what you can do with interactive presentations.
Present with a Friend
It's great to have a little backup every once in a while. With mmhmm, you can have two presenters at once! This means two people can edit and control the presentation at the same time. You can present together or give someone the reigns to control slides while you present.
How to Download Mmhmm
To download mmhmm, follow this link. Here you'll find the latest version of the software. As of September 2020, these are the system requirements you'll need to meet to run this application.
OS: Microsoft Windows 10
Processor: 64-bit Intel-based processor (32-bit and ARM based systems are not supported. This includes Surface Pro X devices)
Dedicated Graphics Card (Preferred)
8GB Ram (Preferred)
100MB of available storage (Preferred)
Pricing
Mmhmm Free
You can use mmhmm for free! This version of mmhmm comes with the slides, presentations, and recordings. Plus, as an added perk, you can use the Premium Tools for one hour each day! No additional cost.
Mmhmm Premium
For $8.33/month (annual) you can get unlimited access to the premium mmhmm features. This includes individual slide presets, customized rooms, and the presenter panel feature.
Mmhmm Business
Lastly, mmhmm has a business account for enterprise-level use. One of the best things about the price structure for mmhmm business is that you only pay for active users. At the end of the subscription period, you only pay per active user. Pricing is $100 per active user per year.
The greatest thing about mmhmm is that you can link it with your favorite application. Mmhmm works with Zoom and Google Meet. In addition, you can connect it to Microsoft Teams, Webex, Slack, and more!
Linking Mmhmm to your Video Conference Application
Use Mmhmm with Microsoft Teams
Make sure you have the mmhmm application running. While in a Microsoft Teams meeting, locate your camera options and select the mmhmm camera option! It's really that simple.
Use Mmhmm with Zoom
Option 1: Use Mmhmm Camera (Recommended for daily use)
To use mmhmm with Zoom, you'll need to first make sure you have the zoom and mmhmm software installed and open on your computer. You'll want to make sure you open the mmhmm app before opening up Zoom.
Go to the Zoom application. From there, go to the camera settings in the bottom taskbar and choose "mmhmm Camera" as your video source. It's that simple!
Option 2: Screen Share Mmhmm (For text-heavy presentations, better quality)
If you're worried about picture quality or have lots of text to present, Zoom recommends you use the screen sharing function instead. To do so, use Zoom's Share Screen function as you normally would. You'll select the "mmhmm – SHARE THIS" screen and there you go!
Use Mmhmm with Google Meet
Make sure you have the mmhmm application open on your computer. From there, fire up Google Meet. You'll want to find the Google Meet video options and under settings select mmhmm as the camera setting.
It's Time to Impress
Mmhmm's virtual camera application is a comprehensive presentation tool that is sure to impress your colleagues and friends. We hope this guide will help you successfully link and utilize all of the great features available. Don't forget that any virtual background tool works best when paired with a greenscreen. Let us know in the comments if you find mmhmm to be a useful tool or if you have any questions!