You've researched, you've planned, and you've decided to get a Webaround. Congratulations! Now that you're ready to take that next step with us, you may be wondering to yourself, "which Webaround is right for me?" In this blog, we will go over the different Webarounds options available and how to select your perfect Webaround!
How to properly use a Webaround?
There are a few important tips you should do while using any Webaround, to make sure you look your absolute best.
Position Your Camera at Eye Level
We recommend having an external web camera, as it can substantially increase the quality of your picture. If you can't get or don't want the additional hardware, you certainly can use your integrated camera. However, when using the integrated camera, it's important to think of its placement in relation to you. Your camera should be at least at eye level. Having it there will not only help produce more flattering angles of your face, but it will also make sure that the Webaround is properly placed behind you. Win-win situation! If you are using a laptop's integrated camera, we recommend getting a laptop stand to help position your laptop at the right level. Another useful trick is to use old books or boxes as a cheap and easy DIY laptop stand. No one will even know.
Have a Good Light Source
In addition to having your camera at eye level, you should have a light source. This really helps make you shine. Of course the more light sources you can have, the better, but any light source will do. Make sure the light is not behind you but rather in front of your face.
For those looking to get a Webaround and light, our Webaround + Lumecube bundle helps you get the perfect setup, all at once.
Understanding Different Webaround Sizes
The Webaround currently comes in four distinct sizes. Each size is useful in its own way. To get the most out of your setup, I recommend measuring your available space before making a size selection for your Webaround! Knowing your available space will help you understand what to prioritize; size or coverage.
If you do decide to go with a smaller Webaround, there's no need to worry about whether your background will peak through the corners. We have a variety of tutorials on our Youtube that show you how to crop, zoom and change your camera settings to ensure your Webaround works perfectly, regardless of size.
The Close Up (42 inches)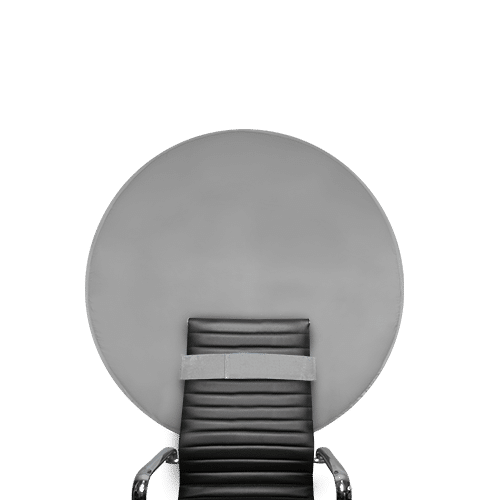 This compact Webaround is great for those with limited space. At just 42 inches, the Close Up is designed to fit in cubicles or other small work areas. If you're in a situation where space is limited, we recommend the Close Up.
The Close Up comes in grey and ocean blue.
The Fan Favorite (52 inches)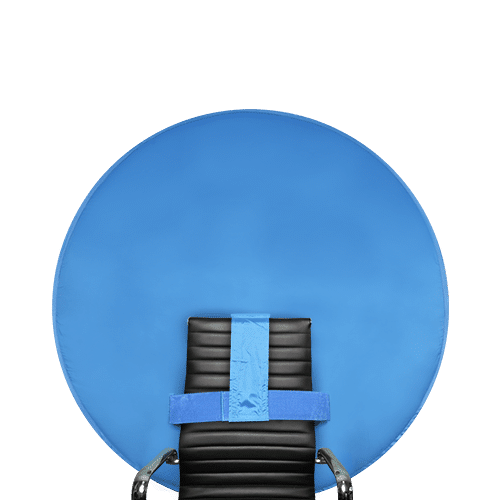 Our next biggest size, The Fan Favorite measures 52 inches. We recommend this product to those that are still space-conscious but have a bit more room to play with. The Fan Favorite is perfectly portable, at a small 21″ in diameter when put in its tote bag.
The Fan Favorite comes in green, grey and ocean blue.
The Big Shot (56 inches)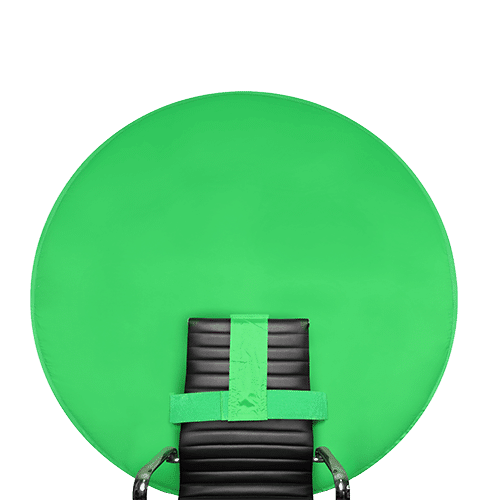 Our most popular Webaround, the Big Shot, is four inches larger than the Fan Favorite is the recommended size if you're looking for great coverage without sacrificing portability.
The Big Shot comes in green, grey and ocean blue.
The Mega (63 inches)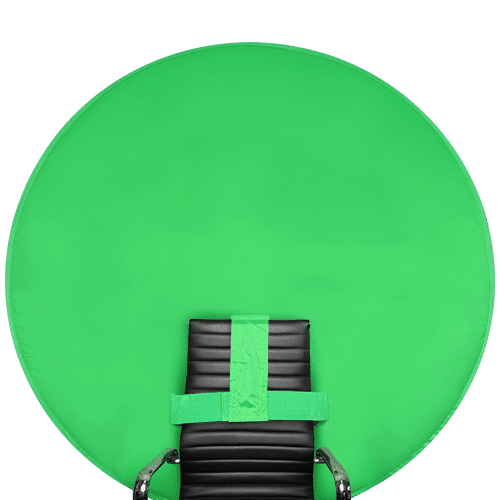 Our largest Webaround, The Mega, is perfect for the ultimate creator. This 63 inch Webaround works best for those with ample amounts of space. It's also a great selection for those that will be moving around a lot during video calls, ensuring your entire backdrop is covered.
What Color Should I Select for my Webaround
Once you know what size suits your needs, you'll need to select a color. The Webaround comes in three colors: Green, Grey, and Ocean Blue. The color of your Webaround is an important element you should consider. Make sure you select the color that works with your intended use.
Green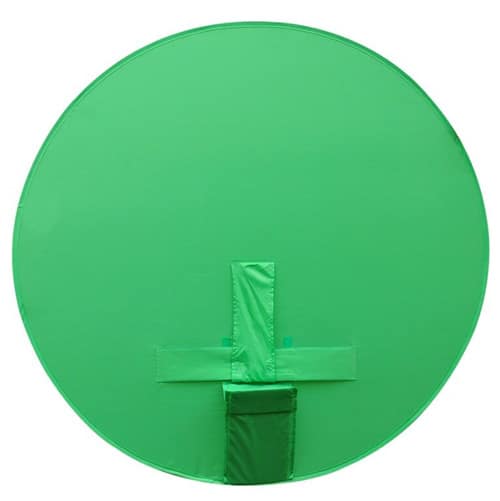 A Green Webaround is the perfect color for creatives and professionals, alike. There are many benefits to selecting a green Webaround.
Firstly, Webaround green is the best color for chromakeying. This is important for anyone looking for their Webaround to act as a true green screen. Easily replace the Webaround backdrop with a virtual backdrop of your choice with our chroma-key green Webaround!
You can get the Fan Favorite (52 in), Big Shot (56 in), and Mega (63 in) Webarounds in green!
Grey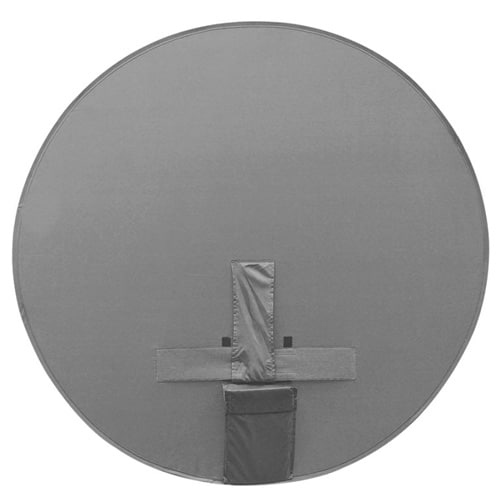 The Grey Webaround is a great professional product. Whether you're branding your Webaround with your own custom logo or using it as a privacy screen during business calls, this is the Webaround for you.
We recommend the grey Webaround for professionals looking for a clean, distraction-free backdrop for their video calls or conferences. For companies looking to implement a company-wide video conference solution, the grey color matches well with almost any logo. Perfect for companies looking for a branded backdrop.
You can get the Close up (42 in), Fan Favorite (52 in), Big Shot (56 in) Webarounds in grey!
Ocean Blue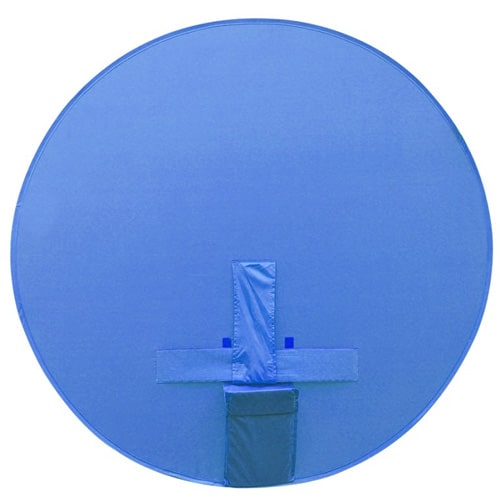 Last but certainly not least, we have the Webaround in ocean blue. This flattering color was specifically chosen because of its ability to complement almost all skin colors. When thinking about your backdrop, it's important to consider your own complexion and what colors will work best with your look. Thankfully, we've done that thinking for you with our ocean blue color. This color is great for those looking for a flattering and distraction-free backdrop for video conferences or any other video calls!
You can get the Close up (42 in), Fan Favorite (52 in), Big Shot (56 in) Webarounds in ocean blue!
Select the Right Color and Size for You
Now that we have walked through the variety of color and sizes available, its time to select the right Webaround for you. Make sure you're taking into consideration your available space and what you're hoping to do with your Webaround. Don't forget, if you're looking for a true greenscreen, you'll need to get the green Webaround.