Working from home gives you the ability to customize your workspace like never before. Check out these awesome home office accessories that give a boost in productivity and look to your setup.
Storage Solutions
One of the biggest challenges faced by professionals is keeping a tidy desk. The following home office accessories are designed to help with that exact problem. From aesthetically pleasing storage solutions to charging solutions, the following accessories are perfect for those looking to clean up their workspace.
1. Modern Weave Storage Cubby – West Elm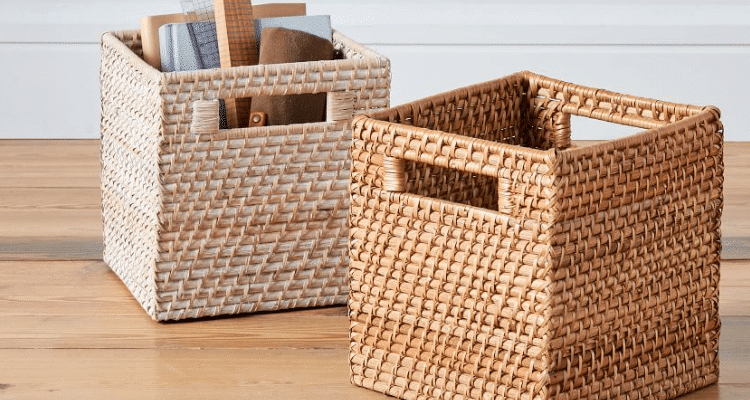 The West Elm Storage cubbies are just the right size for shelves and cabinets. They will bring order to your office supplies. These woven baskets are handwoven in the Philippines from durable rattan.
2. MobileVision Bamboo Charging Station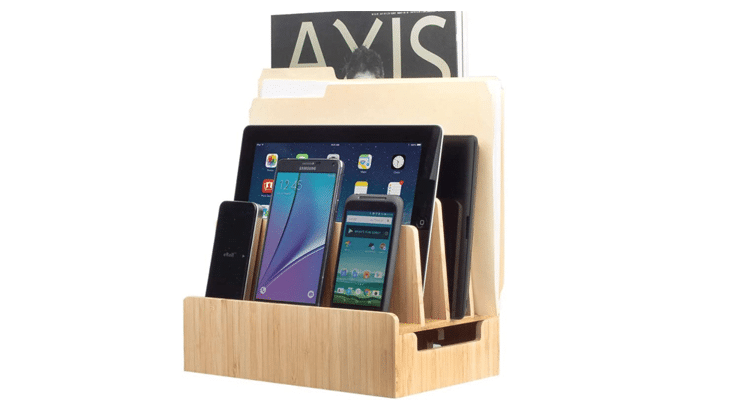 Organize your laptop, multiple tablets, and at least 3 smartphones while they charge. Ideal for clearing up necessary desktop and countertop space. This universal charging station works with Apple iOS, Android, Windows, and other platforms. This charging station can charge any USB-charging compatible device.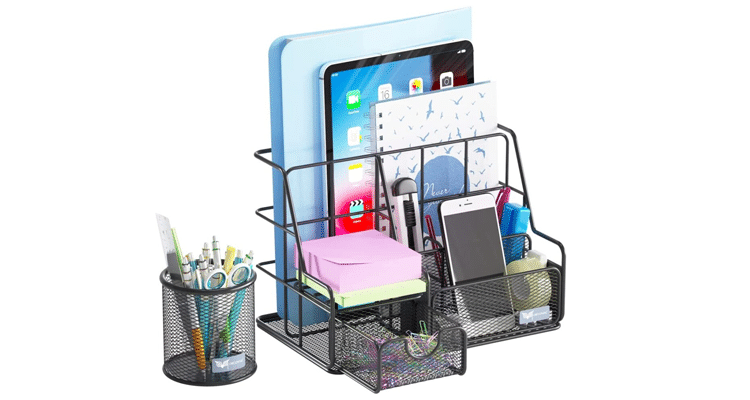 For something a bit simpler and easier on the wallet, the Orgowise Desk Organizer does exactly what it needs to do. Nothing more, nothing less. This storage solution will help keep your desk organized.
4. Amazon Basics Plastic Desk Organizer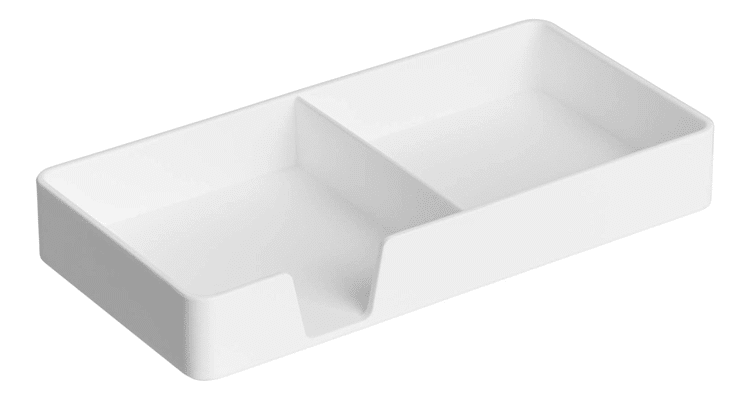 This small tray helps keep all of your office accessories neatly contained. Made of durable hard plastic, it comes in black and white. For only $5.59, including free shipping, this is one of the most affordable storage solutions available on the market.
5. COZYWELL Self-Adhesive Under Desk Drawer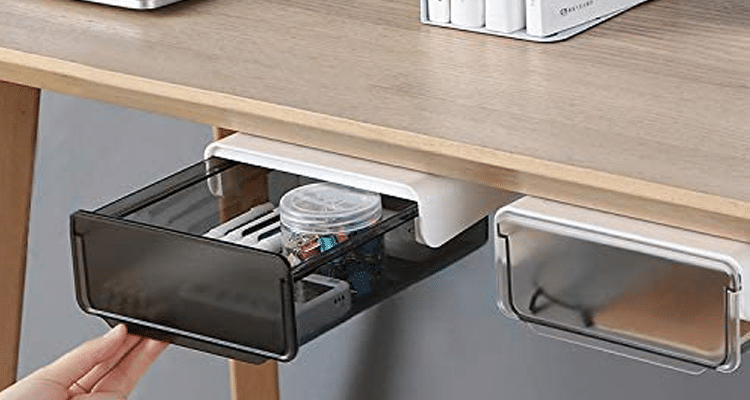 This slide-out under the desk drawer mounts under your desk. This drawer will help free up a lot of space on your desk. This drawer is made out of lead-free ABS plastic, a safe, durable, and environmentally friendly solution.
Monitor and Laptop Stands
In order to maintain a healthy posture while working, it's important to keep your monitors at eye level. These monitor and laptop stands will help you easily achieve an ergonomic posture.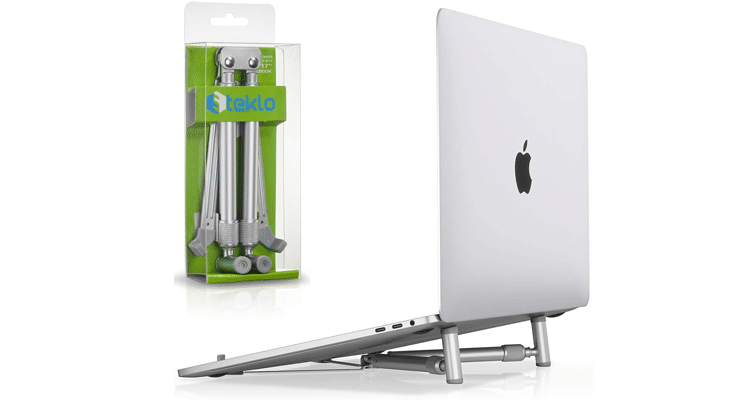 This laptop stand works with all laptops from 12-17 inches. The laptop stand is easy to assemble, and affordable at $24.99 with free shipping. An added plus of this specific laptop stand is that it keeps your laptop well ventilated.
7. HumanCentric Vertical Laptop Stand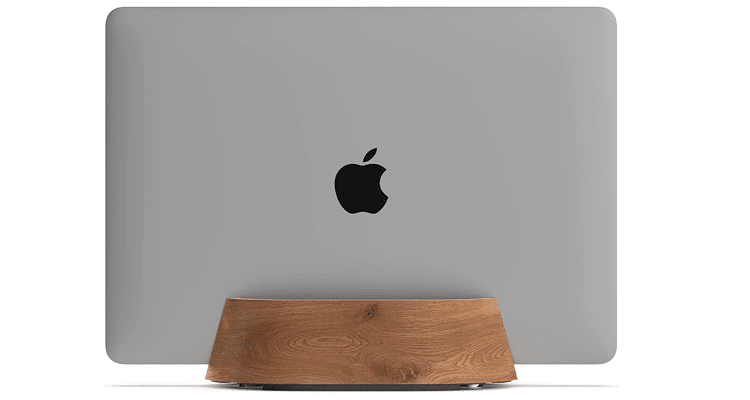 This laptop stand is different from most others. For those that want to connect a laptop to external monitors, this vertical laptop stand allows you to keep the laptop out of the way. A felt pad securely grips your laptop, and rubber padding on the bottom of the stands keeps it in place on your desk. Use a stylish dock on your desk. Please note, you can not use your laptop screen while utilizing the vertical laptop stand.
8. Rain Design mStand360 Laptop Stand with Swivel Base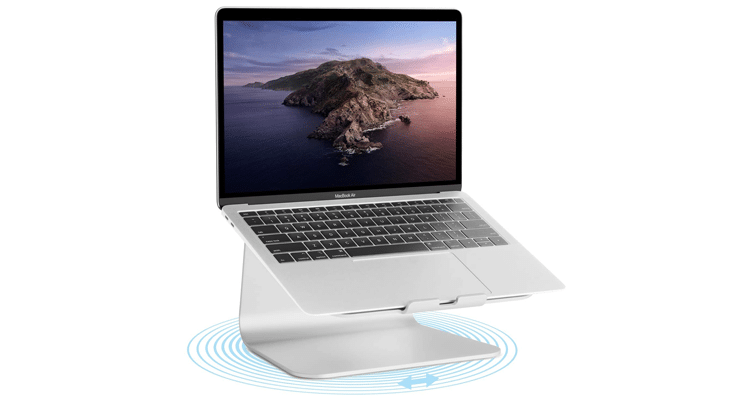 The purpose of a laptop stand is to elevate your laptop to achieve better ergonomics. This laptop stand also has a 360-degree rotating base that allows you to modify the position of the laptop with one simple movement. This aluminum design is solid and sturdy.
9. Yamazaki Black Tosca Monitor Stand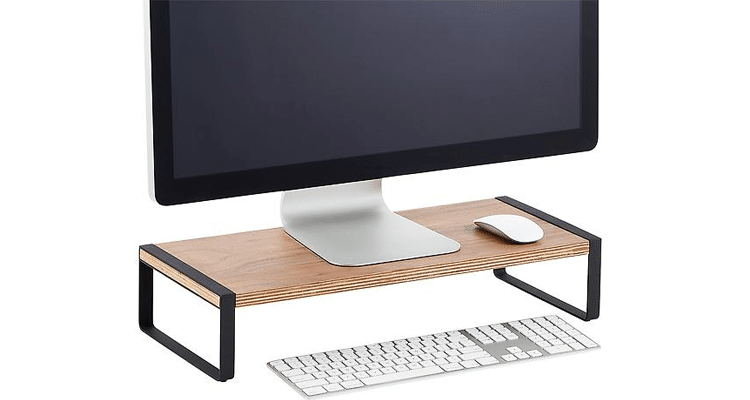 The Tosca Monitor Stand is beautifully crafted and exceptionally strong. It elevates your monitor and creates a lot of room below for a more open work surfece. Made of wood and steel, it's highly durable.
10. SimpleHouseware Metal Desk Monitor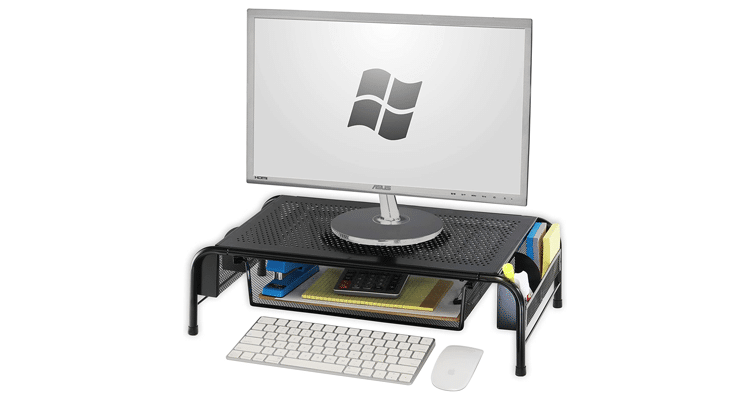 This sturdy metal monitor stand helps reduce neck and eye strain. It also has a sliding drawer letter tray to hold files and small items. Plus, as an added benefit, it has 4 side storage pockets for additional organization. Use the side compartments for items such as cellphones, calculators, pens, and other supplies.
Desk Accessories
Desks aren't just for productivity. They're also great spaces to show off personality. These desk accessories are both cute and useful.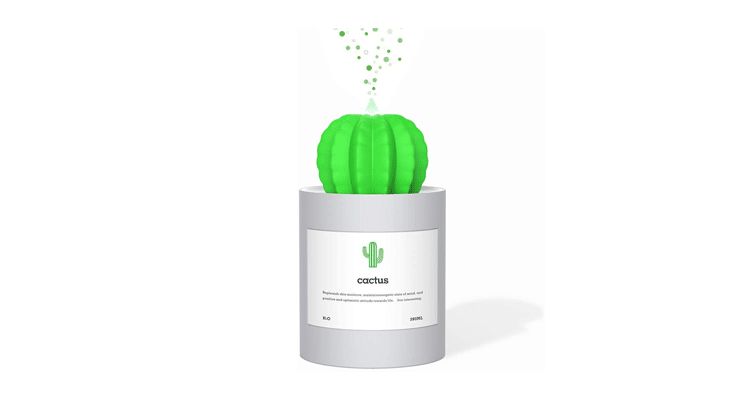 This compact USB humidifier can help turn any small working space into a more comfortable environment. This cool-mist humidifier can moisturize your office space to prevent dry, stuffy air.
12. LeonBach Cactus Pencil Holders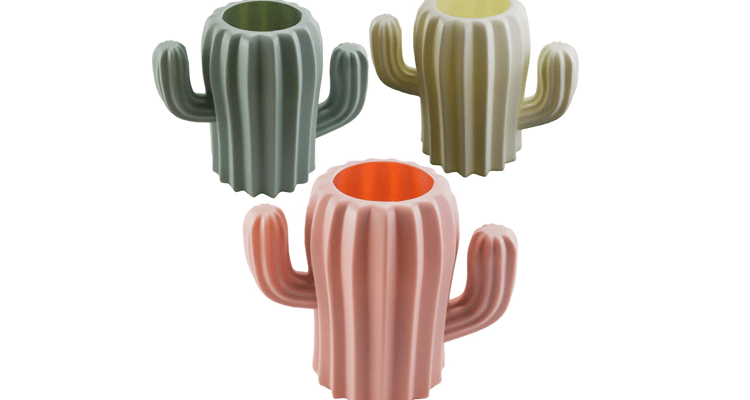 Coming in a pack of three, these cactus pencil holders are a cute way to spice up your workspace. Made of plastic, these cactus come in pink, white and green.
13. GirlFriday Acrylic Calendar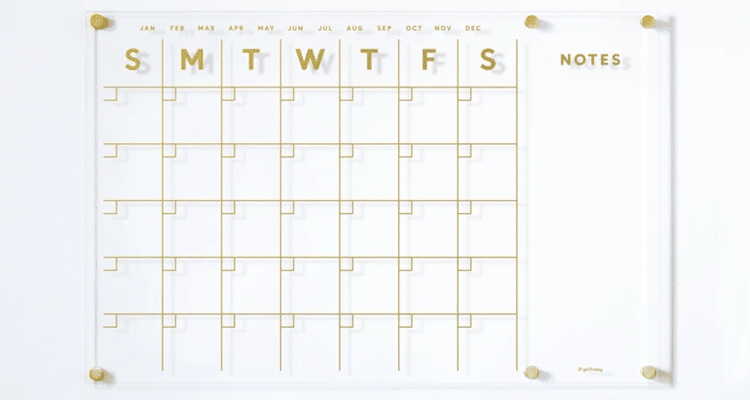 Acrylic is a great writing surface. Wet-erase markers will erase completely and don't leave behind a ghost stain like many other erasable calendars. It is a beautiful piece of art that will help keep you organized. It comes in three colors, silver, gold or black.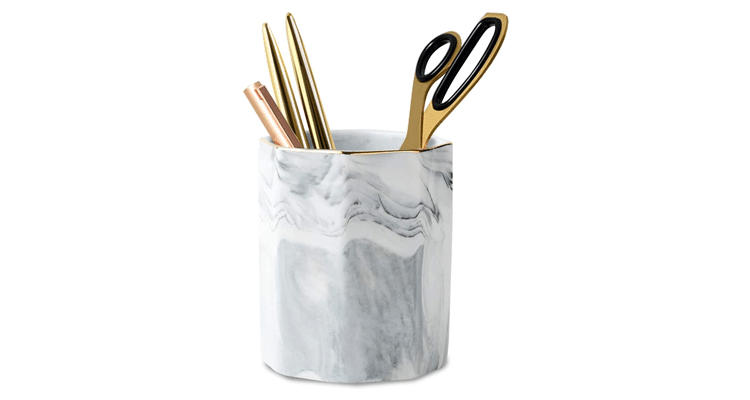 This ceramic pen holder had a sleek and sophisticated look at an affordable price. This pen holder will hold pens, pencils, and a pair of scissors easily. It will help keep your desk organized while also giving it a pop of personality and style.
15. West Elm Decorative Animals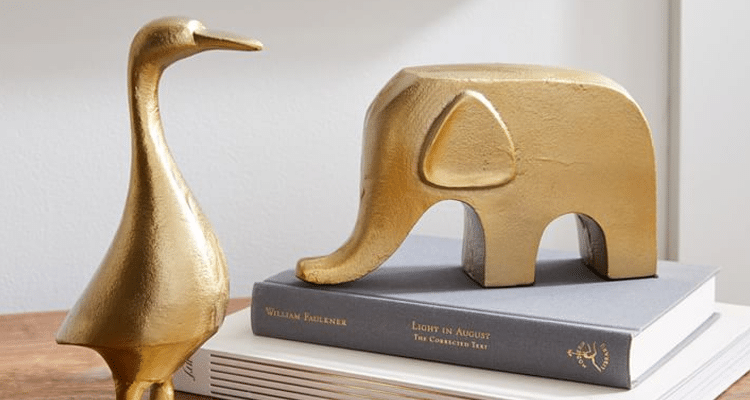 These cast aluminum in a brass finish animal figurines are sold individually or in a set of two. Made in India and hand cast. These items will instantly cheer up any shelves or desks you have in your home office.
Productivity Accessories
We spend a lot of time in from of our screens. That's why its important to have accessories for our home office that help boost our productivity.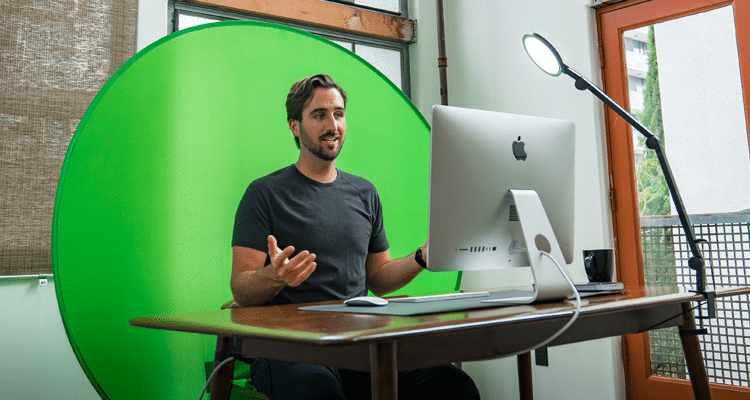 We might be a little biased, but we think a Webaround webcam backdrop can be a great addition to any home office. The ability to quickly add a green screen to your chair for virtual backgrounds, or just a clean blue or grey background helps you stand apart from the rest of the attendees.
17. Felix Gray Nash Bluelight Glasses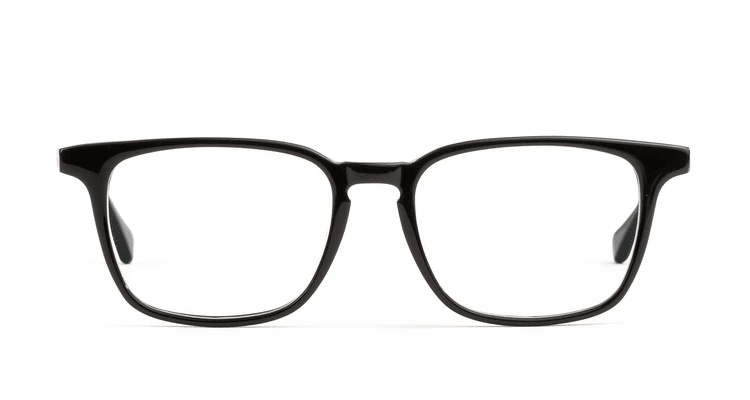 These blue light glasses are designed to reduce eye strain. Double sides with an anti-glare coating, you'll be able to see your best with these lenses.
18. FluidStance Level Balance Board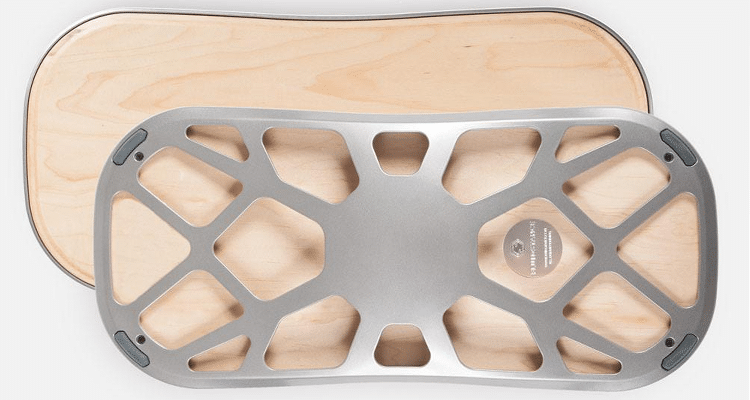 The FluidStance Level is designed to allow your natural micro-movements, strengthening and stabilizing your body while you work. Stay active while working, burn extra calories and keep your joins healthy with the FluidStance Level BalanceBoard.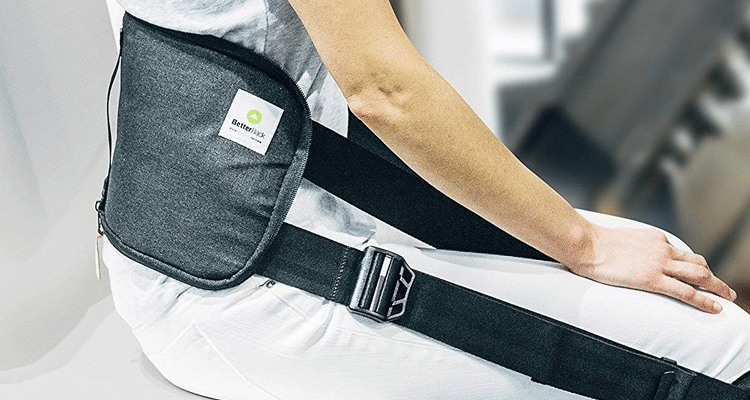 This back brase allows you to effortlessly sit in perfect posture, something many of us struggle with after long days in a chair. This brase will ease your backpain – and also help prevent it. This is a solution to make any chair ergonomic.
Lighting Accessories
Straining your eyes is not good. Working in dark spaces without adequate light can lead to headaches, eye strain and additional issues. These lamps, varying from utilitarian to stylish, help ensure that you won't be left in the dark.
20. BenQ e-Reading LED Desk Lamp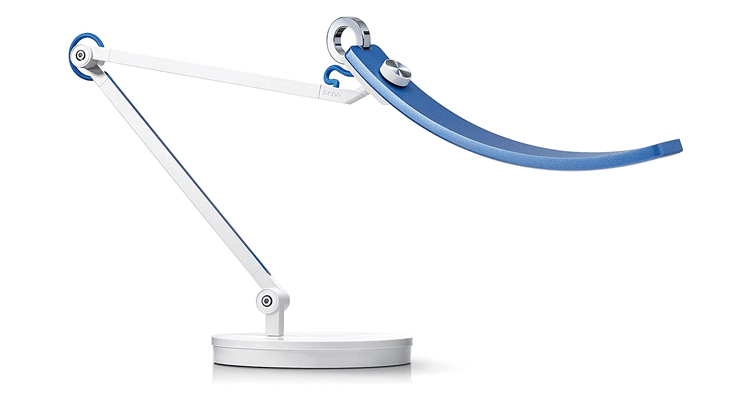 BenQ is well known for making quality and affordable computer monitors. BenQ's new monitor desk lamp shows they know how to do much more than just monitors. This lamp delivers a 35-inch light range and an illuminance of 18000 lux. As an added plus, this light can be switched from warm to cool tones, helping reduce eye fatigue.
21. Amazon Basics Dual Head LED Desk Lamp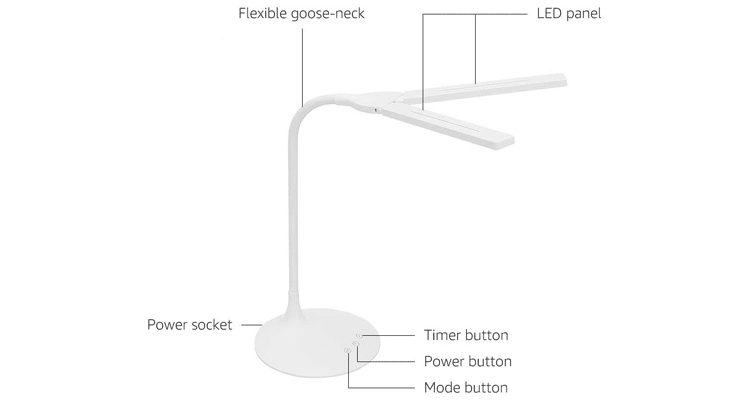 This slim and modern dual-head table lamp is perfect for the office. With 48 energy-efficient LED lights, you can toggle between 3 color modes (natural, white, and yellow light). It also has a 40-minute timer, a dimmable sensor, and a touch on/off switch.
22. Lume Cube Video Conference Lighting Kit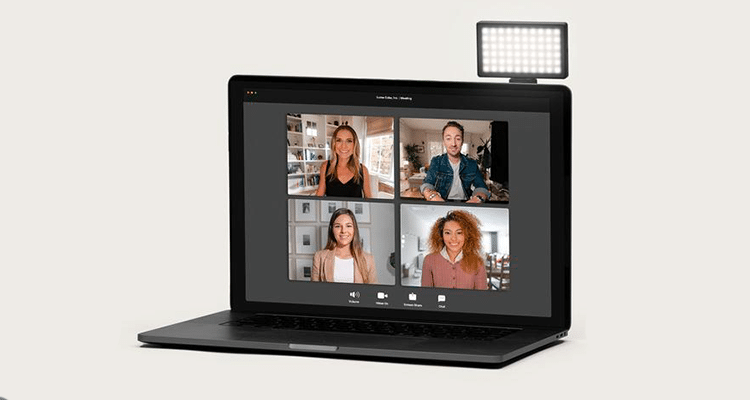 This simple lighting solution attaches to the back of your monitor, laptop, or screw-mounted device to provide the perfect amount of light on your next video call. The Video Conference Light Kit is great for individuals who need more light for virtual backgrounds, or just want to highlight themselves more during a video call.
Desk and Mouse Pads
Mouse and desk pads are both for the protection of your desk and for accurate mouse tracking.
23. Aothia Store Leather Desk Pad Protector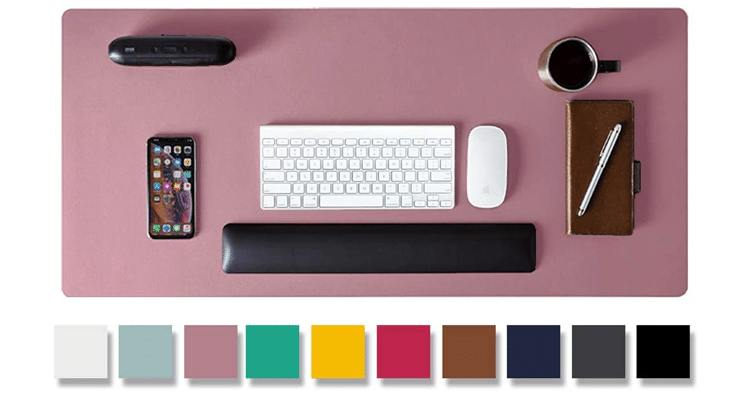 This durable PU leather desk mat protects your desk from scratches, stains, spills, heat, and scuffs. As an added perk, it also adds a pop of personality to your workspace. Available in 10 different colors, you'll easily find a color to match your current decor.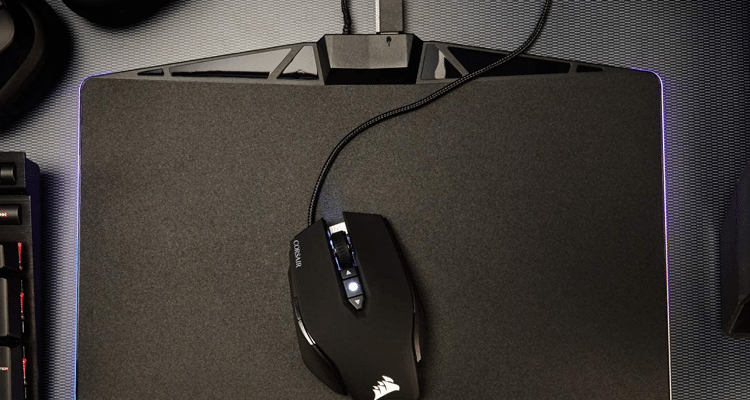 This light up mouse pad has durability, tracking and precision. As an added benefit, this mousepad comes with a built-in USB passthrough for your mouse, saving a port for other devices.
25. Razer Gigantus V2 Cloth Mouse Pad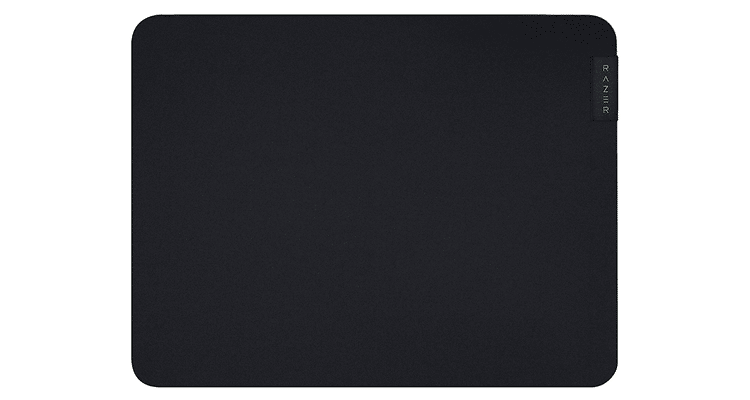 This ultra-large mouse pad features a micro-textured surface for precise pixel-tracking calibrated for all mouse sensors. For just $10, this mousepad does everything you need at a low price.
Foot Fatigue Solutions
Whether you're using a standing desk or spending all day in a desk chair, your feet can get fatigued from staying in the same position. These accessories are specifically selected to help alleviate that stress.
26. Topo Comfort Mat by Ergodriven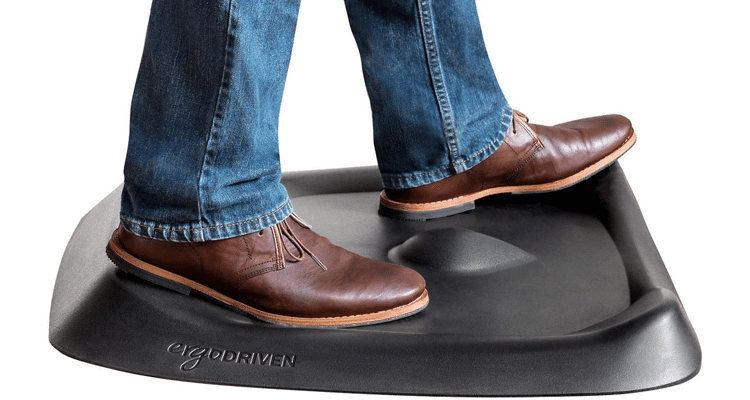 This mat is specifically designed for standing desks. This comfortable material and terrain feature allow you to spend more time out of your chair. The different forms around the mat allow you to move in a variety of different ways, all while staying in front of your desk.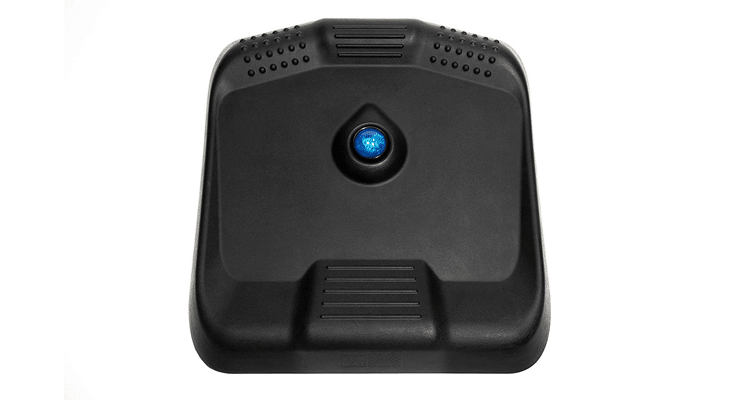 This ergonomically designed mat is firm where you want it but soft and comfortable where you need it to be. The differentiator between this mat and others is that the Genius Mat comes with an acupressure massaging roller bar to help soothe your foot.
28. Safco Movable Anti Fatigue Mat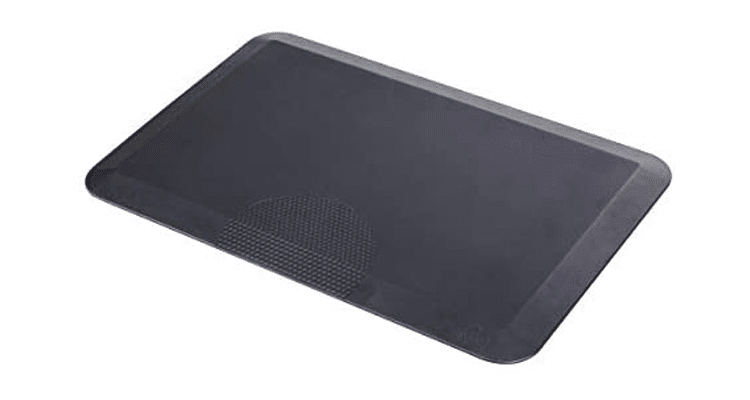 This durable and easy to move mat helps reduce fatigue while standing. Made out of self-skinning polyurethane, this mat is highly resistant to punctures and tears, creating a long-lasting product that can handle your everyday use.