It's December 2020 and if you're like me, you've been working from home now for a while; 9 months to be exact. I think it's safe to assume we're in it for the long haul. Maybe it's time to upgrade your work from home setup. I wrote before on the importance of investing in your home office. A designated home office was vital then and, frankly, even more so now. Pre-"everyone working remotely," we were accustomed to our employer providing a practical workspace, but times are changing. According to Stanford, about 42% of the workforce is currently working remotely. Not having an employer-provided working space is a challenge, but it comes with a lot more freedom of expression.
This change to your workspace doesn't have to be scary. We'll walk you through how to build the best work from home setup.
Why Create the Best Work From Home Set Up?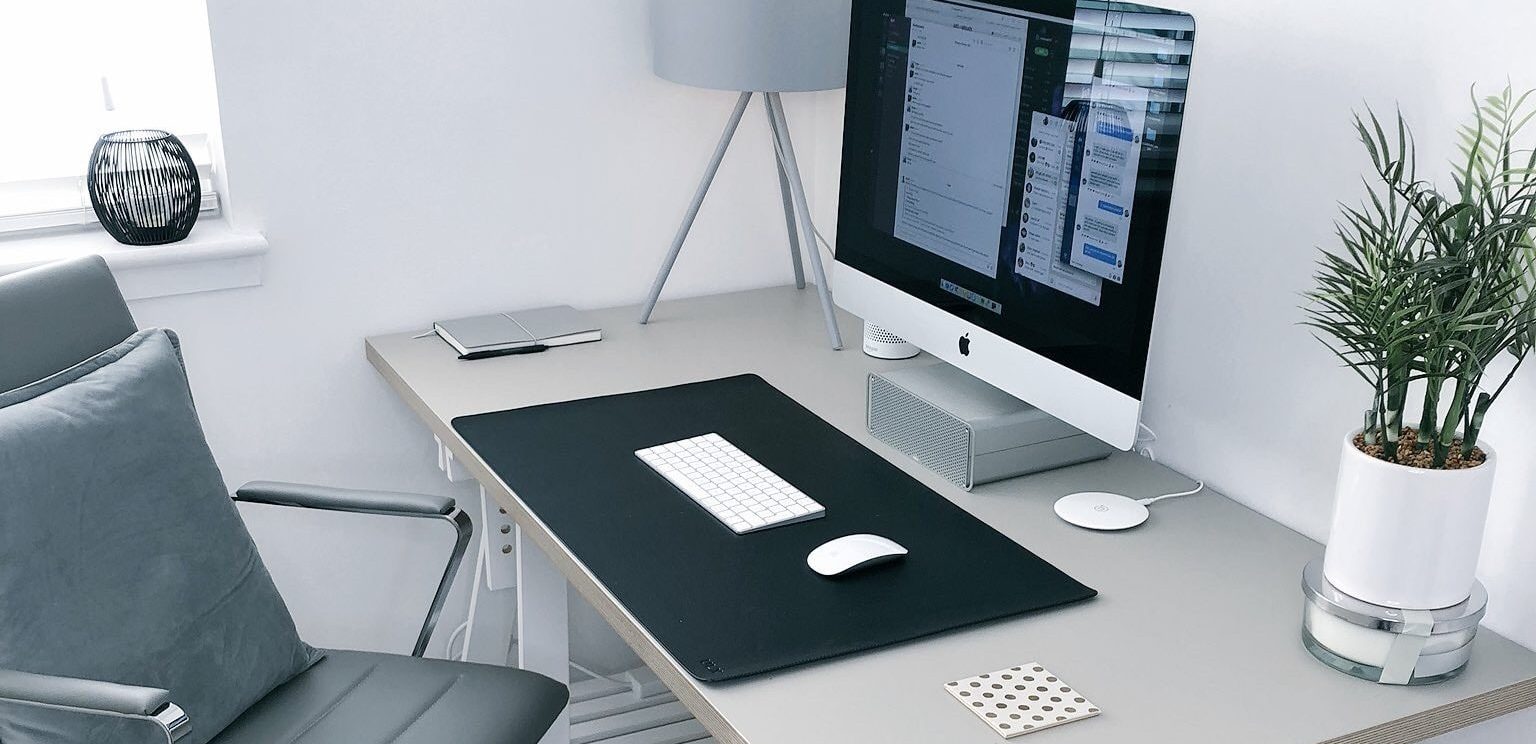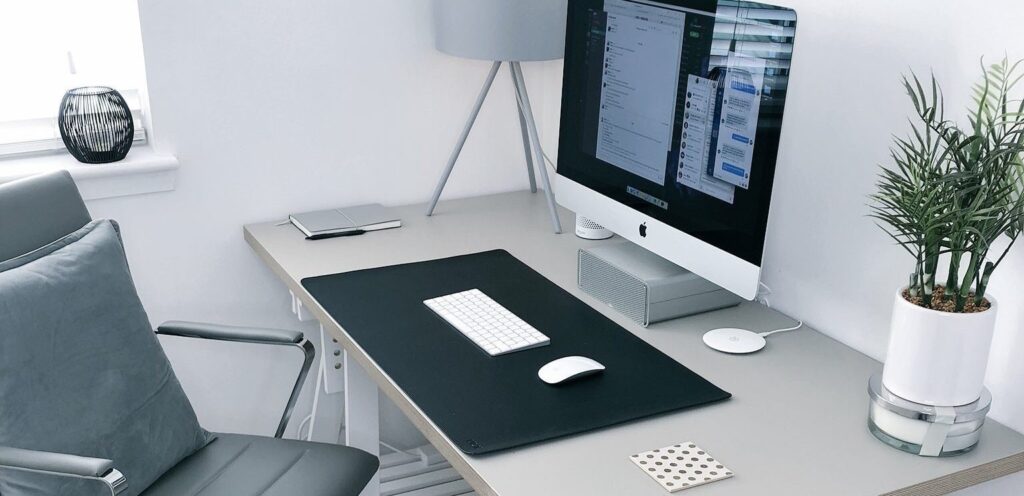 Working off your kitchen counter is convenient, but I'd advise against it. Having a defined workspace comes with a lot of benefits. Here are a few of the countless benefits of investing in your work setting.
Help increase productivity
Separates your personal and professional life
Promotes keeping organized
Helps with your posture and health
Want to take advantage of all of those benefits? Here are some suggested items to help you build the best work environment for you!
Start with the Home Office Essentials
Before doing anything, measure the space you'll be using as your home office. You want to make sure you're getting things that are the right size and fit for your space. After that's done, start with the basics, a chair, and a desk.
An ergonomic chair
I'm sure you've heard this before, but I will repeat it, an ergonomic desk chair is essential. Many of us sit in the same chair for hours. While we should be getting up and stretching every 30 minutes while sitting, it isn't very easy. So, whether we like to admit it or not, we mostly have a sedentary work life. A good chair will help mitigate some of the negative side-effects of sitting for so long.
Your chair should be comfortable, ergonomic, and supportive. According to this guide for selecting an office chair, you should look for a chair with the following characteristics:
Adjustable heights
A forward and backward moving backrest
Sufficient lumbar support
Depth and width to avoid overcrowding with your desk
Adjustable armrests
Need an ergonomic desk chair? Get one today on Lumens, Amazon, Wayfair, or Ikea.
While selecting your perfect chair, don't forget to think about the flooring of your space. If you have carpet in your home workspace, a transparent plastic mat is a quick and easy solution to stuck rolling wheels.
A spacious desk
Utilize the space in your home the right way. Get a desk that provides you with as much surface area as possible.
Searching for the perfect work desk to fit into my new home office wasn't easy. Firstly, I was working with limited space. Like many confined to urban-living, I don't have much unused square footage in my apartment. I needed to make sure I wasn't over cluttering my space with unnecessary things. But when it came to my desk, I made it my #1 priority, space-wise. I measured the desk's maximum possible depth and length to fit in my space and ordered one precisely that size. And, I didn't give up an inch.
I knew I had many things I was going to want to place on top of said desk. And the last thing I wanted was a lot of clutter. By maximizing your desk's surface area, you can organize and position all your gadgets the way you want.
An extra plus would be a standing desk. Standing desks do come at a premium (both in price and space), but they do wonders for your physical health. Are you looking for a standing desk? Uplift Desk has affordable and quality options.
If you need a spacious home office sitting desk, get one today at Ikea, Amazon, Wayfair, or Home Depot.
Then, Focus on Your Video Conference Set Up
Working from home means you'll be partaking in more virtual interactions. It's important to make sure your setup is going to make you look your best on camera.
A quality webcam
Working from home means more video conferences and video calls. It's no longer possible to pop over to Jessica's desk to talk to her about your upcoming project. You can, however, pop into her at-home office with a click of a button. This new dependence on video conferencing means that you'll spend a lot of time in front of a webcam. Make sure you get a quality cam.
What type of things should you be looking for when purchasing a webcam?
All webcams are not created equal. Focus on the following key features to make sure you get a quality cam.
Firstly, focus on frame rate. Don't buy anything below 30 frames per second. Over 30 fps will help produce a smooth image. According to lifewire, a webcam that supports more than 60 fps recording is best.
Second, the resolution should be above 720p. 4K webcams are becoming popular, but it might not be necessary to shell out that much for a 4K quality camera. To see the picture at full resolution, you'd need a 4K monitor as well. Likely most people you'll be video calling won't have the HD-capability. Best to stick with 720p – 1080p.
Make sure you have the best image quality possible and get a Logitech webcam from Webaround.
A Webaround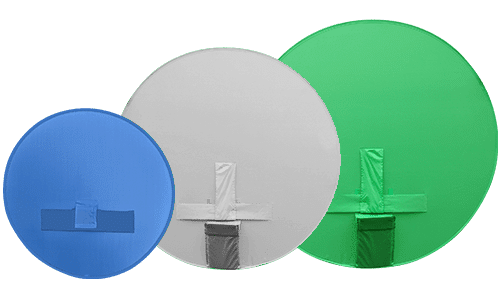 The Webaround revolutionized the way I work and interact with my coworkers. Video conference calls fill my days. By having the Webaround on my chair, I can join a video conference call in seconds and never worry about what could be in the camera frame. I always have a clean and professional backdrop with the Webaround.
Aside from creating a professional video conferencing environment, the Webaround is sensational for many people sharing a small space. My husband and children can freely walk through my apartment without video bombing in the background. If you have children, you know they always need something when you're on a call.
Learn more about how the Webaround is perfect for a home office and buy your Webaround from our site!
A laptop stand and a desk light
A laptop stand serves a couple of purposes. I believe the most important reason for getting a laptop stand is neck health. By raising your laptop or desktop monitor to your eye level, you can avoid continually straining your neck. Secondly, a laptop stand makes sure that your webcam is capturing your image from a flattering angle. You want to make sure you're looking your best on camera.
To get a laptop stand, I'd recommend Staples, Office Depot, Wayfair, or Amazon.
A desk light is usually an afterthought, but it shouldn't be. It's hard to rely on just natural light to light your space, especially in winter. A desk light can also act as a light source to illuminate you during your video conferences.
To get a quality desk light, I'd recommend Staples, Office Depot,Wayfair, or Amazon.
Invest in Quality Hardware
Now that you have the basics and a good conference call set up, you can focus on the hardware.
High-quality keyboard and mouse
When looking for a keyboard and mouse, you will need to decide between wireless or wired options. A wireless option will come without the inconvenient cord, but may be a little bit less responsive than its wired counterpart. Wireless devices also tend to be more expensive than their wired versions, and will rely on an external source of power such as batteries.
Regardless of wired or wireless, when shopping for a mouse, I recommend focusing on the fit first. You'll likely spend a lot of time holding this object, so it's important to make sure it is comfortable. If you have smaller hands, I'd caution against buying a very large mouse. According to techadvisory.org, certain mice can accommodate different grip types. For example, users who want a high level of control should opt for a mouse with fingertip grip. Users looking for comfort should obtain a palm grip mouse. Lastly, if you want a little bit of both, a claw grip mouse is the way to go.
A strong internet connection
In the world of remote working, you're only as productive as your internet connection. When considering your internet provider, highspeedinternet.com recommends comparing plans, pricing, speed and data caps for the providers in your area. This internet provider tool can help you identify all the providers in your area and quickly compare the differences.
For those that are still renting modem/routers from internet providers, purchasing your own can help you save money in the long run.
Cable tape
I dislike messy cables. Before I purchased a roll of cable tape, I was constantly rolling over my power cords, USB devices, etc. Aside from the fact it was incredibly annoying, it also is terrible for your cables. I knew I had to do something to address the bundle of cords accumulating behind my desk. Thankfully, I had great success with a roll of gaffers tape. Gaffers tape is safe and easily removable. It won't leave any residue on your walls or floor. Plus, it has the added benefit of coming in many colors, so it's easy to match to your home office's wall color.
Lastly, Make It Your Own
A vision for your space
Mostly everything on this list you can purchase. But, no space is complete without a cohesive idea behind how it's decorated. Its important to add personal touches to really make your space feel like your own. To really get the best home office setup, you'll need the basics, to focus on tool that will improve your video conferencing presence, and a little bit of creativity!