The rise of COVID-19 and its delta and lambda variants has completely upended the typical business workplace. Businesses are now moving toward different workplace models to accommodate this shift. Hybrid work environments are on the rise, but many businesses have been forced to downscale or even sell off their physical locations.
This is where remote working comes into play. But what is remote working? How do remote workers work? What tools do remote workers need? We will take a deep dive to explain all of this and more. Let's get started!
What Is Remote Working?
Remote working is a new business workplace model where the employee is not required to commute to a physical office space to work. Rather, these employees are able to do their work wherever they please, typically at their home or on-the-go.
Remote workers are usually provided the opportunity to create their own schedule around their professional and personal life, completing their work and achieving their goals where and when they please.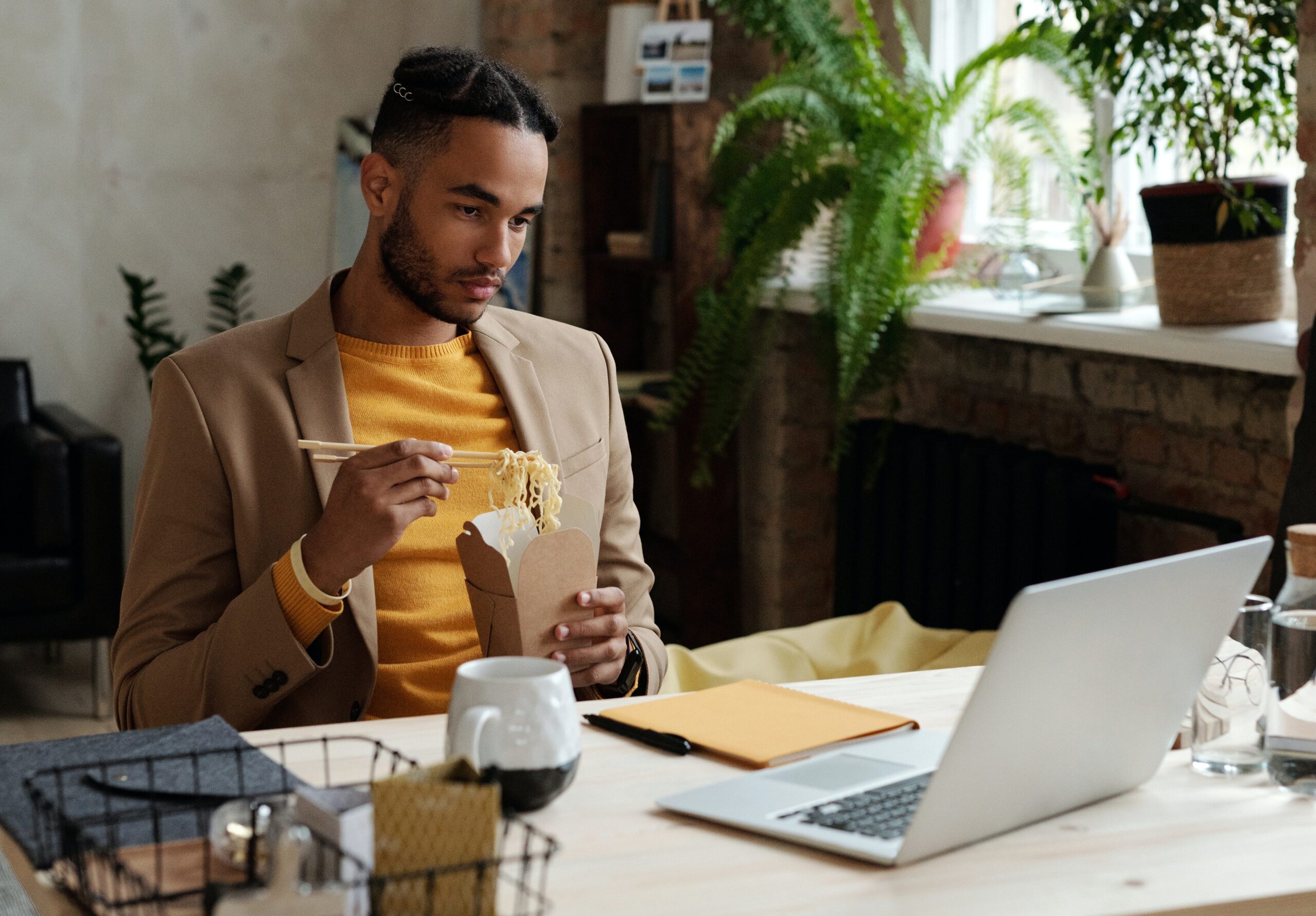 Most businesses were forced into providing remote jobs for their employees when the pandemic struck. As a way to keep up production and employee safety, businesses began having their employees working from home and remoting in to collaborate and complete projects.
Since then, remote working has expanded into its own business model that many individuals come to expect of business owners. In fact, in a study from Intuition, they found that of the employees surveyed, 62% expected their employers to allow them to continue working remotely moving forward.
This expectation and business shift has lent itself to why remote working has exploded over the past year. It's also why we have seen 63% of high-revenue growth companies moving to at least a hybrid work model to capitalize on this change.
How Do Employees Work Remotely?
The unique prospect of remote working is that there is no set-in-stone way that remote workers have to work.
Some individuals prefer to just work from home on their computer, which allows them to be flexible in their personal life or stay safe from possible sicknesses. Other remote workers take advantage of their freedom and travel, taking business meetings in airports, trains, beaches, and other unique places with their laptop and headset (Which is why having a webcam backdrop is so important! We discuss this later).
Remote working allows complete flexibility on where work is done and completed.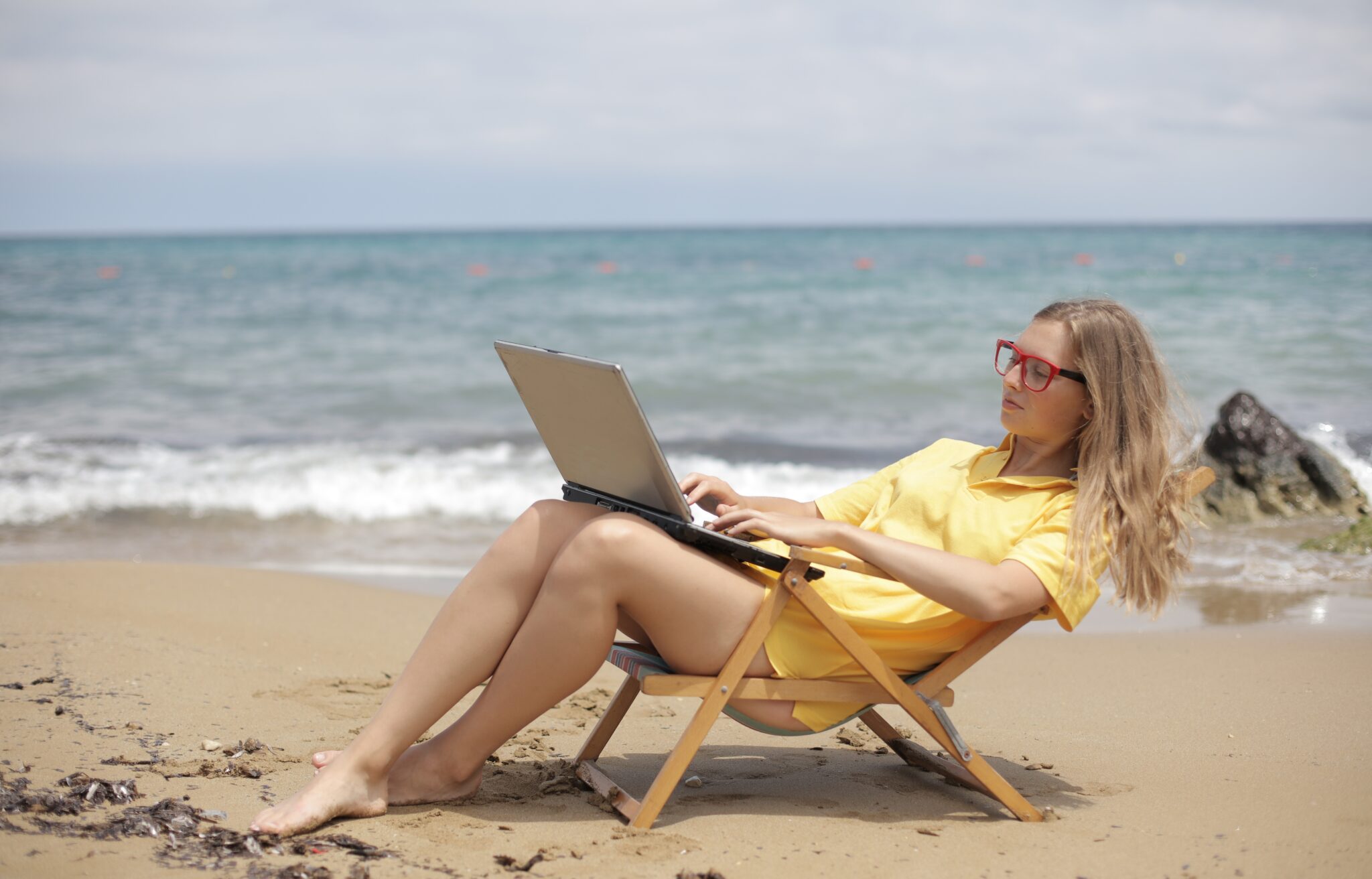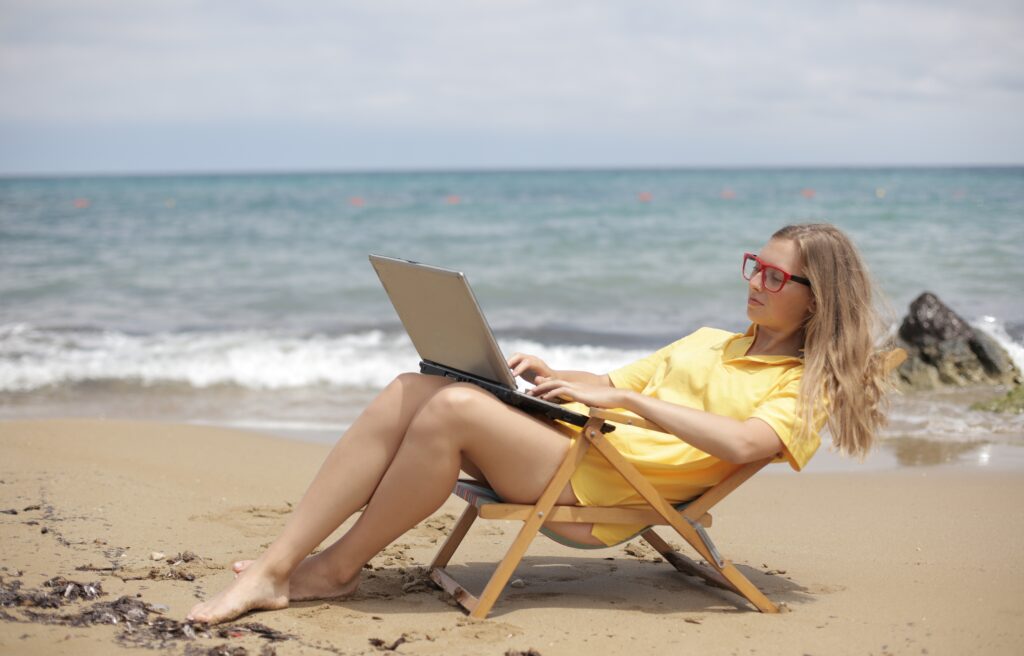 Though most remote work is flexible, businesses typically have rules that remote workers must follow to ensure productivity. This provides insurances that work is getting completed and that employees are available virtually for collaboration. Some rules include:
If a remote worker's schedule is flexible or if they need to work during certain hours
If a remote worker has to commute into a physical location a certain amount of times per week
When they need to meet virtually for team meetings
What Tools Do You Need for Working Remotely?
Working from home does come with its challenges, mainly in the equipment and software needed to work remotely. While some tools are obvious, some are often overlooked that can provide a major difference to your overall look and presentation.
We provided a quick list of must-have items to get started with as a remote worker.
Home Office or Space
This should be pretty straightforward, but individuals that are working from home should have a space where they can conduct their work. Whether its an unused part of the house, a spare room, or even a modified outdoor shed, a home office is a necessity for any remote worker.
In some cases, the home office can be used to also get a tax deduction if it meets certain criteria. We recommend consulting with the individual who prepares your taxes to see if you qualify.
Video Conference Software
Remote workers will find that they will need to meet with colleagues and clients regularly, even when working from home. To do this, employees use a video conferencing software to meet virtually with voice, video, or both.
Choosing the right video conferencing software starts with your business functions. If all of your business tools are ran through Google Workspace, you'll more than likely just use Google Meet. That isn't to say you can't use the other standalone software like Zoom or Webex, but it boils down to how integrated your company wants to be.
At Webaround, we use Zoom for our video conferencing software. It's intuitive interface allows for easy connection to meetings, while its powerful features like virtual backgrounds allow the Webaround to integrate easily for enhanced branding and presentation opportunities.
Webcam
Remote workers will be meeting with potential clients and attending team meetings through your video conference software throughout the day. Ensuring that your colleagues or clients can see your face is a huge benefit, not only for the bottom line, but for human connection. Therefore, a webcam is needed for remote workers to achieve this.
Picking the right webcam is critical for a couple reasons. Overall, you want to look good on camera. While a $20 camera from Amazon sounds great on paper, the quality you will get from it will be less than desirable. It will be grainy and won't allow you the opportunity to use other tools like webcam backdrops or virtual backgrounds.
We recommend a webcam that achieves a minimum of 720p resolution and 30 frames per second. The Logitech C920 webcam is one of the best value webcams on the market and provides a max resolution of 1080p and 30 frames per second.
Webcam Backdrop
One overlooked tool that many remote and hybrid workers forget about is a webcam backdrop. A webcam backdrop is a screen that is used to cover your background from distractions (i.e. children or messy backgrounds) or for additional branding opportunities. Typical webcam backdrops come in blue, gray, or green colors.
Green webcam backdrops can be used as a green screen, which work with virtual backgrounds. Virtual backgrounds is a feature in many video conference software that allows you to place images or video behind you and provide many branding and presentation options.
You can create an image with your logo, or have a video slideshow running in the background. The possibilities are endless.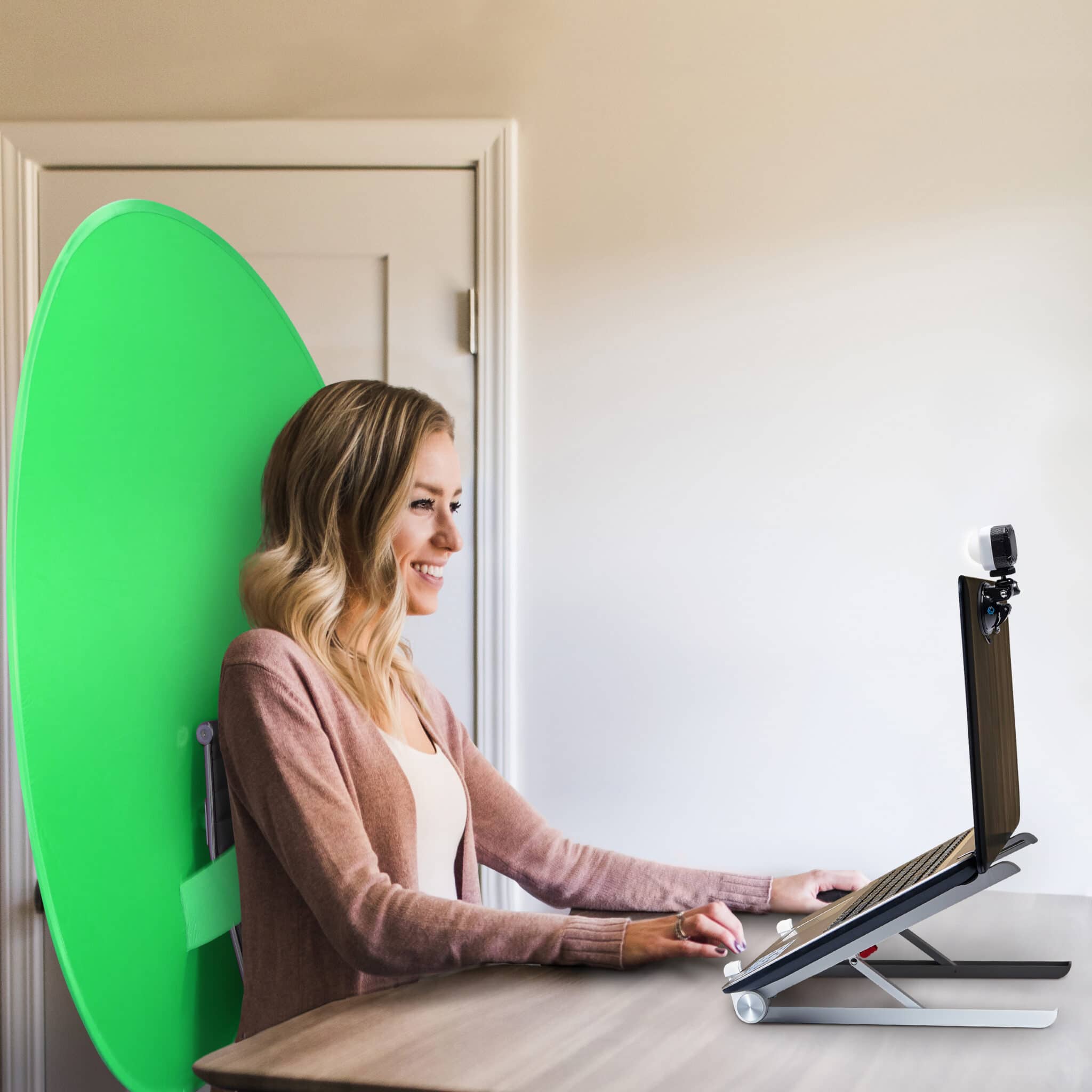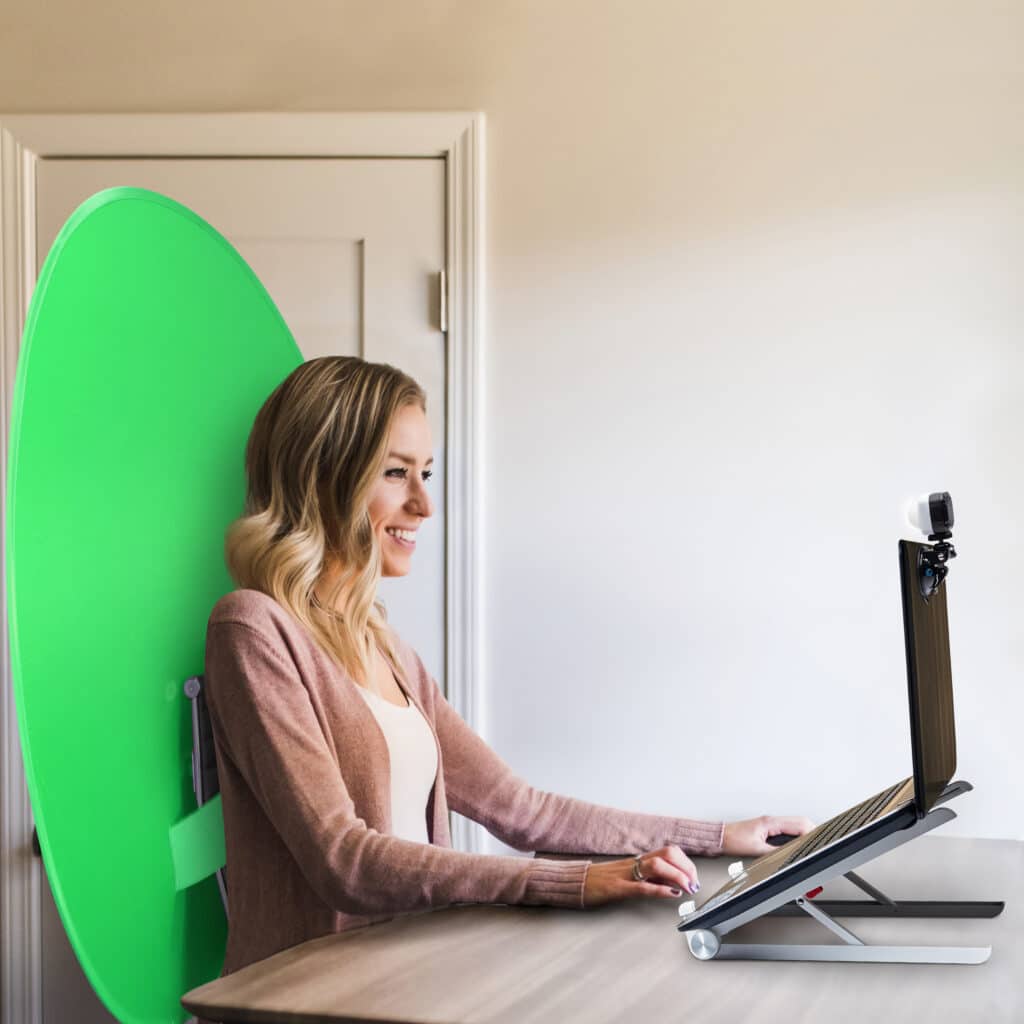 While it may seem biased, the Webaround is what we use at the Webaround! It is truly the easiest webcam backdrop available. Just open it up, pop it on any chair, and have a professional backdrop or green screen ready for use with virtual backgrounds in seconds.
It also travels and stores easily for on-the-go meetings. You'll never need to worry about what is going on behind you with a webcam backdrop like the Webaround.
Headset
Most individuals can overlook a blurry camera, but audio is another story. Bad audio can completely break the concentration of an individual and make it near impossible to ignore. As remote workers are reliant on video conferencing software to meet face-to-face, having good audio is a top priority. A laptop's onboard microphone won't cut it on this one.
We recommend using a headset like the Logitech H570e, which provides the perfect balance of quality and integration that remote workers need. Using a headset also means that you can more easily hear what people are discussing, especially if they aren't courteous and rely on a bad microphone to talk.
Pro Tip: Webaround has created video conference bundles that include all of the tools that you need for a perfect remote workspace.
---
Working remotely is a unique and new business workplace model that is only growing. It saves the company and employee money on building and commute costs, allows the employee to be flexible in their personal and work life, and provides safety to those who don't want to work among others during a global pandemic.
Being a remote worker has its advantages, but also requires specific tools to pull off effectively. Ensuring that a proper video conferencing software, webcam, webcam backdrop, and headset are just some of the tools that remote workers need to be successful.
Is your company looking to move to remote work? Not sure where to start? Learn everything about hybrid and remote work here!