Personal Insights delivers personalized insights and analysis gathered from Webex App's messaing and meeting platforms about how you work. The WebEx People Insights provides detailed, private insights to you and your team to help you manage work-life balance, carve out focus time, and develop stronger and more effective working relationships and collaboration skills. The two together combine to provide you an insightful look at how you're working and how members of your team work with you and others.
Control and Understand Your Schedule
WebEx gives you a valuable look into your time and how to control it. In Personal Insights, you can set your quiet hours, time zone, and block off focus time.
After setting up your quiet hours, Webex will tell you how many meetings you've attended outside of your regular work hours to help you better control your work-life balance.
Focus time insights allow you to see how many blocks of focus time you've taken in the last 7 days and also highlights other times in your calendar that had the potetial to be extra focus time based on your productivity and schedule.
Goal Setting
People Insights allows you to set goals and track your achievements using Webex's intelligent analytics. As an individual user, you can set goals for yourself and Webex will keep you on track.
For example, using the Meeting insights, you can set a goal for the percentage of meetings you want to join on time. Webex will help you track your progress and let you know how you're performing.
You can also set goals for how often you speak up during a meeting or turn on your video.
One of the most useful tools, in my opinion, is setting goals for adding agenda's to your meetings and goals for respecting other's quiet hours.
Collaboration And Team Building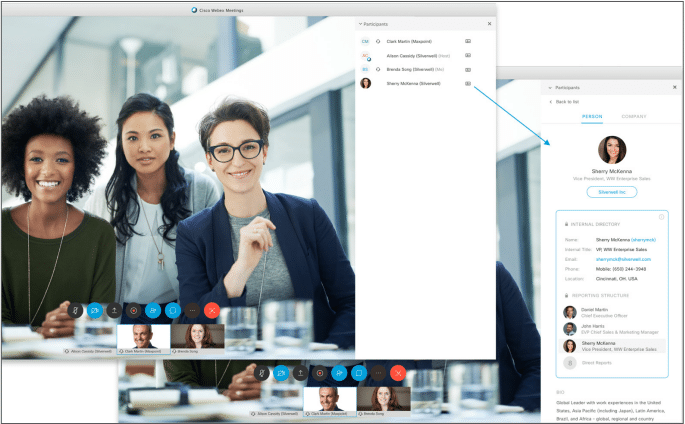 People Insight Profiles
People Insights Profiles make it easy to get to know your work collaborators. With People Insight Profiles you can:
Understand the roles, responsibilities and personal history of your work collaborators.
Understand the individual's role within your organization and their personal interests.
Understand who attended the meeting and the role each one played in said meeting.
The true benefit of the People Insights Profiles is that instead of having to use an internal directory to learn about your colleagues role within your organization, all of that information is available at the click of a button within the communication platform itself.
Close and Familiar Connections
Within your personal insights, there is a connections area that allows you to visually see who your close work contacts are. Additionally, you can see who your distant work connections are as well. The connections area allows you to see a variety of different collaboration statistics. Included are:
Most Messages – the people you message the most in the last seven days
Top Collaborators – the people you spent the most time messaging and in meetings with in the last seven days
New Collaborators – the people you've messages or met with for the first time in the last seven days
Learn about Yourself to Work More Efficiently
Webex People Insights are there to help unlock your best professional self. Learning how and with whom you work will help you identify areas of strength and areas for improvement. Do you use Webex People Insights? Let us know in the comments!