In the world of streaming, looking your best on camera is a big part of your overall presentation. That's why we created the Webaround to make sure you always looked your best anytime you are on camera. What a lot of individuals don't account for though is lighting. This plays a huge role in your overall look, but also allows a green screen (like a Webaround) to work more effectively. Today, we are going to look at three lighting solutions that will help you chroma key and light yourself better. Let's check it out!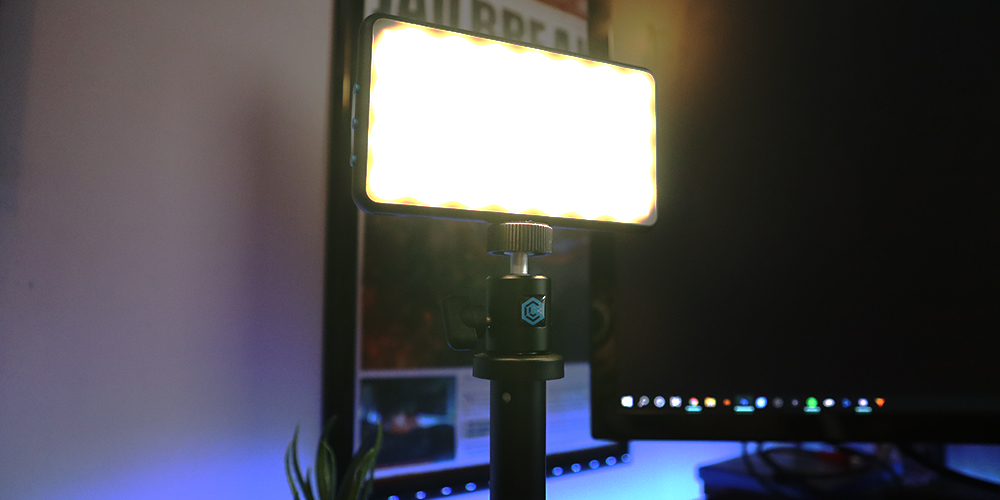 Creators who are looking for full control on the lighting should look no further than Lume Cube's Broadcast Lighting Kit. Each kit comes with:
Lume Cube Broadcast Light Panel
Suction cup base
Tripod base
30″ Adjustable Stand
360° Rotating Ball Head
Power cord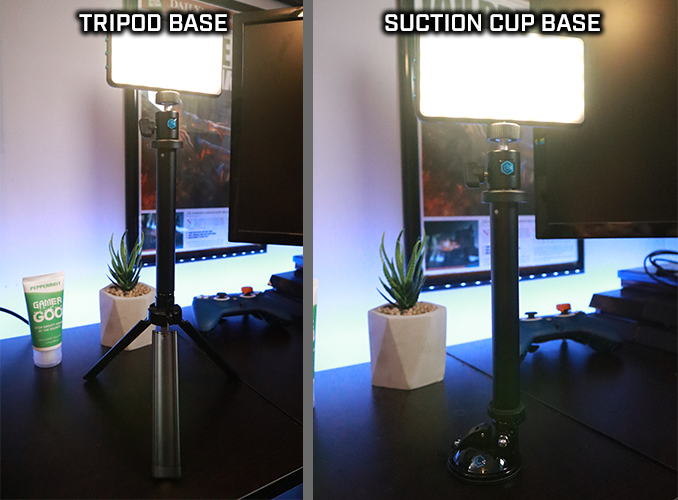 While small in size, this light panel packs a serious punch in terms of lighting output. You can adjust the color temperature from 3200K to 5600K, which gives a warm or cool look. This is nice for adjustments on the fly. The side and bottom of the light features a 1/4″ hole, which is used to mount to clamps or tripods. This is nice if you'd like to use a C-Clamp base or arm for your mounting solution.
The adjustable stand combined with the suction cup base gave us just what we needed for adjustment. While the tripod was a great feature, we found that the suction cup base provided a more sturdy experience. The light's small form factor is great when you combine it with any camera and doesn't intrude on the space. The ball head allowed us to angle the light perfectly to reduce our shadows. It also provided a nice even coverage of light across our Webaround, making it very easy to chroma key.
We did find that with one single panel, there was some adjustment needed within Open Broadcast Software (OBS) to account for the chroma key and making sure ourselves as the subject was lit correctly. Lighting a green screen with one light is totally doable, but it is advised to use two for a clean and even lighting across the green screen surface. This leads to an easier and more even chroma key overall. The adjustment in OBS to account for using one light took about 5 minutes and we were on our way.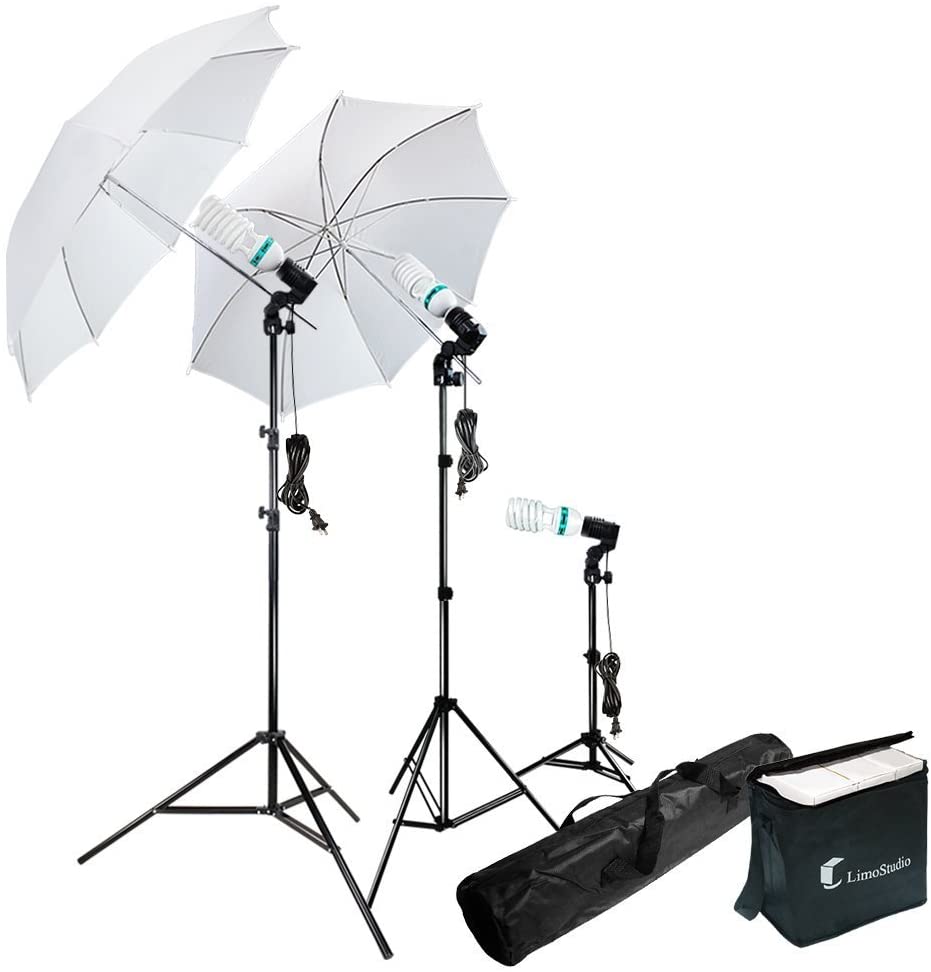 For creators on a budget, umbrella lights from LimoStudio are a great solution. Each kit comes with:
2 x 33″ Umbrella Reflectors
2 x 82.3″ Light Stands
3 x 45W CFL Bulbs
3 x Bulb sockets
1 x 29.8″ light stand
1 x Carry bag
Umbrella lights are great because they disperse light across the umbrella and then the subject, giving it a nice and even look overall. If you want to ensure completely even lighting, the 29.8″ light stand can be used to light from the back. The included travel bag makes it easy for on-the-go content creation and can be used in a multitude of other applications outside of streaming, including photography.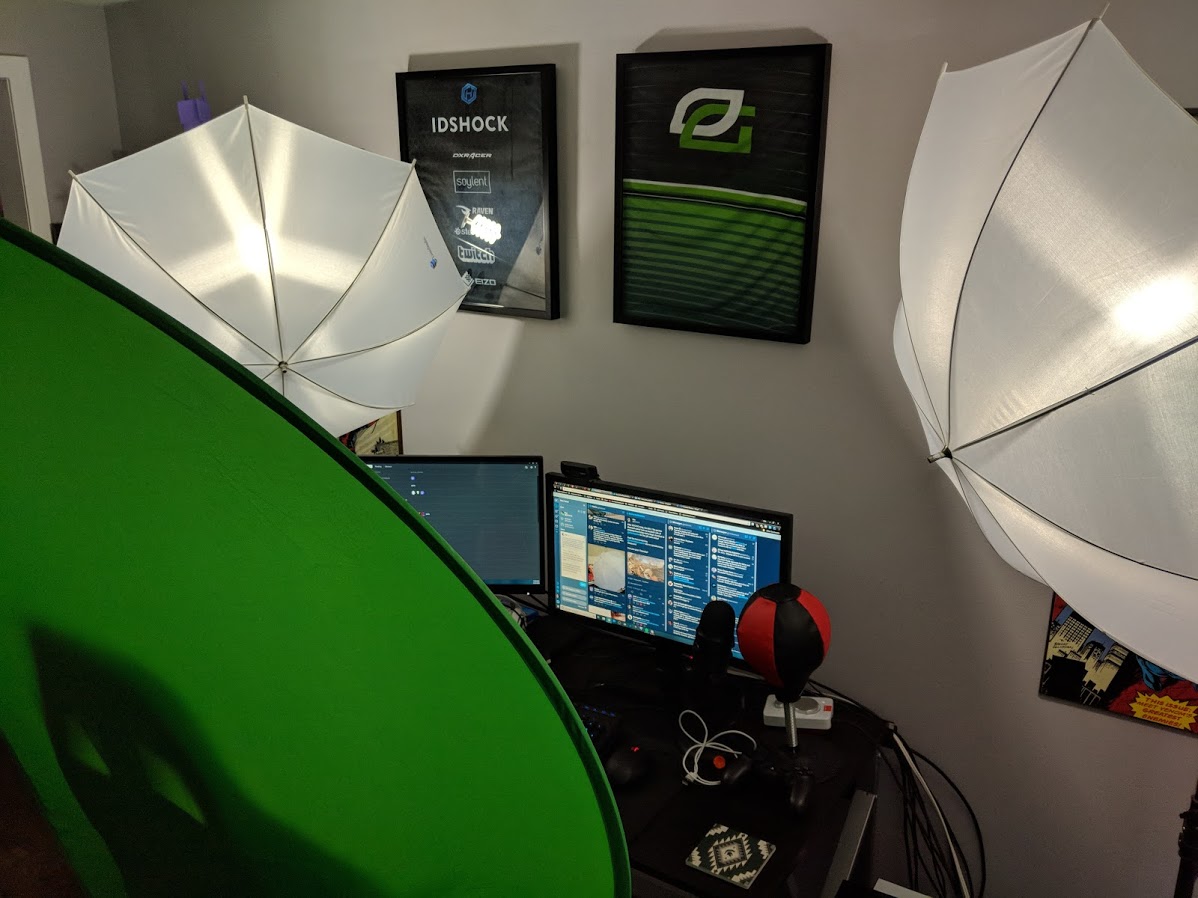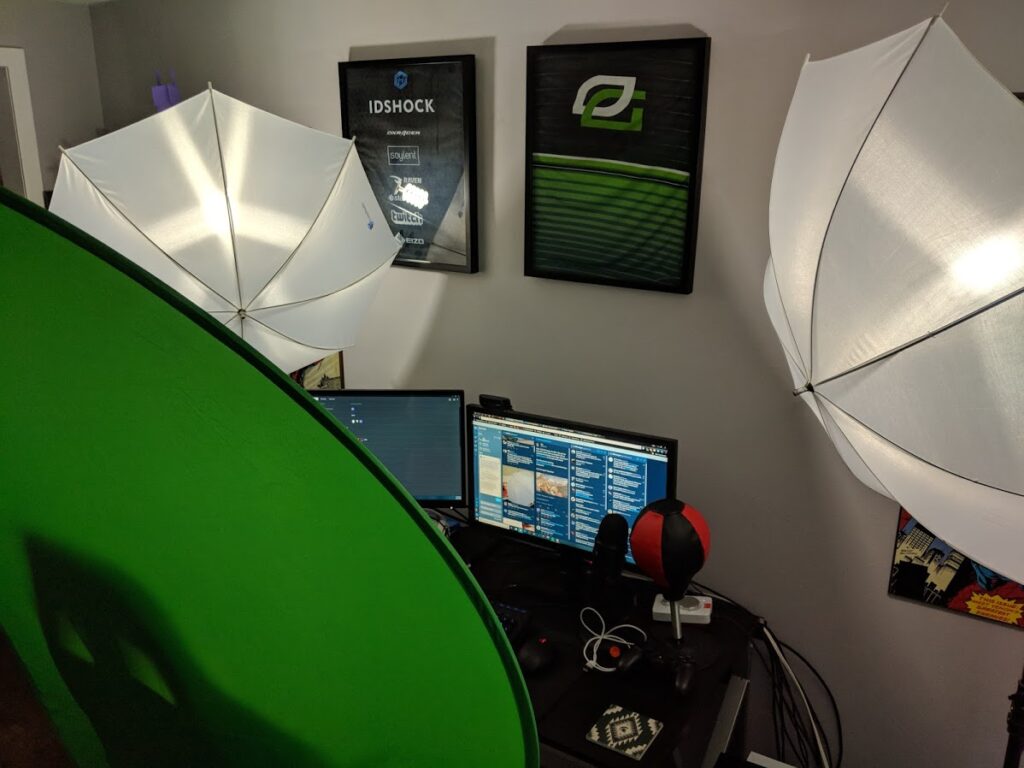 Unlike the Broadcast Lighting kit, which has a lot of adjustment, umbrella lights lack that ability across the board. You won't be able to dim or adjust the warmth/coolness of the subject with these lights. You will be dealing with the brightness that is given off from the bulbs and you will have some work within your software to adjust it accordingly. As well, umbrella lights lack some angle adjustments so tweaking the large lights within your setup may take some time and diligence to get correct.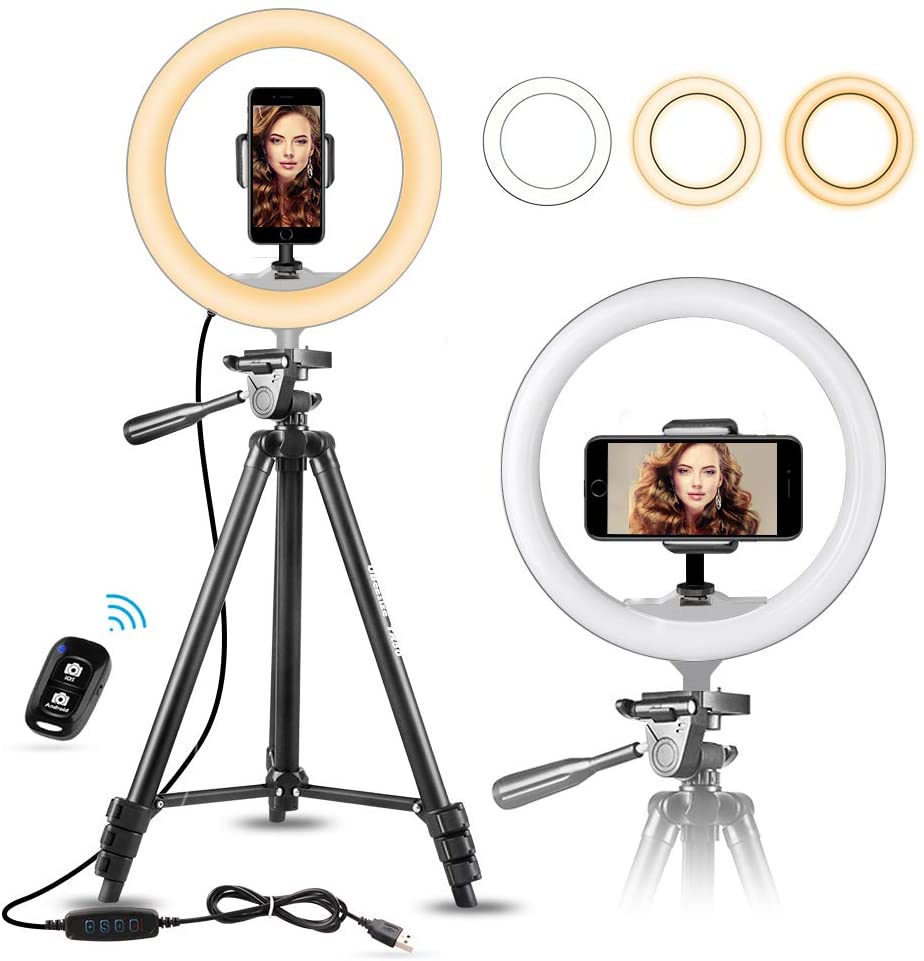 Ring lights are becoming the go-to for light solutions with the ability like umbrella lights to be used in applications outside of streaming. Many of them provide the same features, but we found a reasonably priced unit that gives some great benefits from UBeesize. The kit includes:
1 x Dimmable Ring Light
1 x 50″ Adjustable Tripod
Camera Holder
Ring lights have impressive lighting ability that can distribute a lot of light over a green screen and the streamer. This ring light provides 3 light colors (Warm, Cool White, and Daytime) and 11 levels of brightness. This is great for tweaking the light to what reduces the shadows most over a green screen. Also the ability to angle itself will help reduce shadows on the green screen, providing an easier surface to chroma key off of.

As we mentioned for the Broadcast Lighting Kit, one light is typically not enough to effectively light a green screen. You'll find this same issue present with a ring light. While you can certainly light a green screen with one unit and get great results, it will always look better with two light solutions being used. Especially with the ring light, users should be ready to tweak and use ambient lighting (ceiling lights, lamps, etc) to compensate for that lack of light.
---
With lighting, you are not only going to look better in your content, but you are also going to get a much cleaner chroma key on your green screen. All of the solutions above are viable ways to introduce light into your setup. It all comes down to the features, budget, and overall form factor that you are looking for. You'll find that once you use a light, you'll see a major improvement in your look on camera as a result. If you have other lighting solutions that you have found to work well with your green screen setup or just with a regular facecam, let us know in the comments down below. As always, keep creating and GLHF!