One of the biggest things that makes the Webaround, well Webaround, is our amazing partners who day in and day out use the product and let people know how it can improve their overall content. We want to spotlight the fantastic individuals who make our product better and do amazing things for the community.
Dan is a fantastic content creator on Twitch and YouTube, who focuses on stream positivity, while tearing it up in games like Destiny, Borderlands, and PUBG. We got a hold of him on his off-day and asked some questions about gaming, Destiny, and overall content creation!
What got you into content creation?
"I got into content creating kind of by accident. A few friends wanted to watch me play Five Nights of Freddy so I decided to stream it. Before I knew it I had over 25 people in chat watching and conversing while I played. At the time I was streaming off a single core laptop that ran super hot and loud and used my old Logitech C910 webcam as a mic and a webcam. It was definitely a potato stream but I actually enjoyed being able to share my gaming experiences with others."
What type of content do you produce?
"I consider myself at this point a variety streamer. I like to share my gaming experiences with others so whether it is a story based rpg or a fast paced action shooter I tend to stream it and offer others a place to enjoy similar gaming beliefs and a entertaining atmosphere to hang out in."
What are your goals in content creation?
"My goals are to simply create a home for others. My community ( The Epic Family ) is a diverse group of people who simply just love games. My goal is to continue to grow that community to one day partnership and to overall make a positive difference in the gaming community."
What games do you play?
"I play everything. Whether it is retro games like Super Mario Brothers or more current games like Doom most recently. I find variety streaming an amazing way to experience games I never would have played or missed out on. There's a unlimited amount of games I haven't played and enjoy finding a new gem that I can become obsessed with."
What is the funniest thing that happened while filming or during streaming?
"There's so many amazingly funny things that have happened over the 3 years of being a content creator but having my mic arm just fall into my lap was hilarious and chat found it hilarious"
Where do you see your community and you in 5 years?
"I see myself and my community expanding beyond simply content creating on Twitch but becoming more of a larger presence in the gaming community. Being able to know of the Epic Family outside of just YouTube and Twitch and using my platform to better promote diversity in gaming."
What are some tips for individuals who are wanting to get into content creation?
"Just do it. When I started there were not no where as many resources to make a good looking and sounding stream as they are now. I wish I had all the things that are out there now when I started. Whether you simply have a console or have a high-end system you never know what may happen. Just.Do.IT."

What's the best meme in your community?
"It may be weird but I can't think of any. I think when the "dab" came around I began to use that often because it was simple."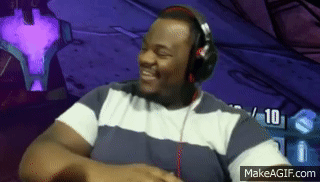 Hard hitting question: Are you a Fortnite or PUBG man?
"I've tried Fornite but I'm a die hard battlegrounds guy. ( I love my M416 with Vector combo)"
What shows are you binging right now?
" I recently binged Stranger Things 2. I am already wanting the next season. Also I've been keeping up with Dragonball Super as well."
Talk to us about Destiny. Whats your main and why did you pick that?
"Destiny main is definitely Warlock. It's what I chose way back in the day during the beta and ever since then I've mained it. At times it was hard being a Warlock 4 Life but in these days more people have come around to accept that Warlocks are the best option in both pve and pvp. I love my Voidwalker and rarely will not speak highly of it."
What is your weirdest talent you have?
"I would have to say being able to do a handstand at my size still. I don't pull that trick out often but when need be I can still do it!"
Weirdest convention story?
"Weirdest convention would have to be TwitchCon 2016. First day walking up to the convetion center and a guy yells out to me as if I know him. However he never came up to me nor told me who he is. It was weird because I expected him to come over but nope. He just kept doing what he was doing. I guess for other bigger content creators they're used to that but I guess I wasn't ( if you are the person and you read this let me know!)"
If you want to check out EpicDan22, he is on YouTube, Twitch, and Twitter!